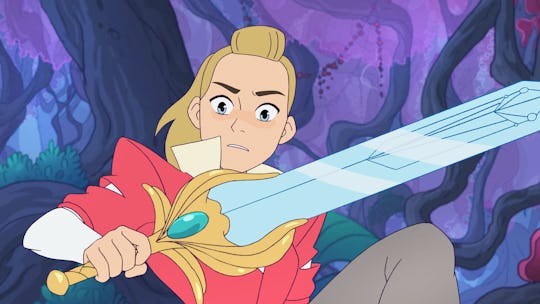 Netflix
Where You've Heard Princess Adora From 'She-Ra & The Princesses of Power' Before
One of Netflix's most anticipated animated series is its reboot of the 1980s girl power classic She-Ra. Given the hype surrounding the show, both fans of the original and people tuning in for the first time are probably wondering: who voices Princess Adora in She-Ra and the Princesses of Power? Aimee Carrero is a seasoned voice actress, but she's also appeared in everything from teen sitcoms to prestige cable dramas.
Most recently, Carrero voiced the titular princess in Elena of Avalor, a two-season Disney Channel animated series that later moved to Disney Junior. In it, she played a Latina teen princess named Elena Castillo Flores, who saves her magical kingdom from an evil sorceress and then must learn to rule it herself in the wake of her parents' deaths. So Carrero has plenty of relevant experience in the "princesses with powers" realm.
Before Elena of Avalor, Carrero was a series regular on four seasons of Young and Hungry, the Freeform sitcom starring Jonathan Sadowski Emily Osment as Josh and Gabi, a tech entrepreneur and his personal chef who have a one-night stand immediately following her interview for the job. Carrero played Sofia Rodriguez, Gabi's best friend and roommate who bore witness to every moment of the secret drama. And, just to prove that she has the range, Carrero also had a four-episode arc on AMC's critically acclaimed drama The Americans playing a Sandinista freedom fighter named Lucia. She's had other guest roles on American Horror Story: Cult, Greek, The Middle, Hannah Montana, and The Mentalist.
As Princess Adora, Carrero becomes the iconic She-Ra, Leader of the Rebellion and wielder of the Sword of Protection. Polygon breaks down the major divergences between the She-Ras of different eras, pointing out:
The biggest difference between this Adora and the original is that the '80s version was directly tied to He-Man: she was his long lost twin sister. We don't know if He-Man exists in the new version of She-Ra, but instead of being confronted by the hero before she finds the magical sword that will reveal her fate, the new Adora finds her destiny on her own.
That's right: 2018 She-Ra's origin story passes The Bechdel Test. Polygon goes on to note that unlike the original, this Princess Adora doesn't keep her identity as She-Ra a secret from the other characters. In the trailer, she openly announces who she really is and turns her back on the evil Hoarde, choosing to fight for the Princesses Rebellion instead.
"She's so imperfect...I find it to be a story of redemption," Carrero said of her complicated character at a New York Comic Con panel ahead of the release, according to SyFy.
As for the controversy surrounding how her character was drawn, with (male) fans of the original complaining that the new Princess Adora wasn't sexy enough compared to the original, Carrero was unfazed. "It's 2018 and we're commenting on women's bodies still?" she quipped at NYCC, according to Variety. "We're still doing that? Haven't we learned enough? So it's kind of boring, to be honest, and easy to ignore."
Hear, hear! Officially excited to see this.