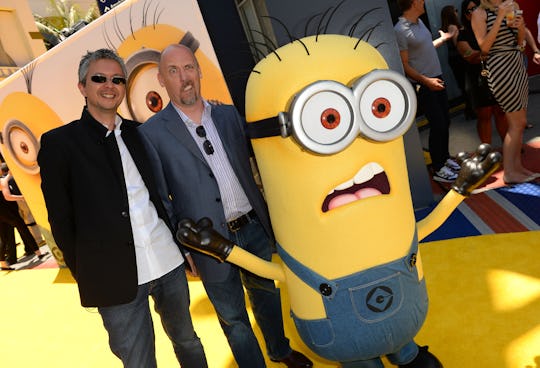 Mark Davis/Getty Images Entertainment/Getty Images
Who Voices The Minions In 'Despicable Me 3'?
This Friday, the fourth installment of the Minions franchise opens in theaters across the country. Fan favorites such as Steve Carrell as Dr. Gru and Miranda Cosgrove as his oldest adopted daughter, Margo, will lend their voices for a third time to yours and your kids' delight. Kristen Wiig also returns as Gru's wife, Lucy Wilde. Fans will also be introduced to two new characters: '80s-themed villain Balthazar Bratt, voiced by South Park co-creator Trey Parker, and a mysterious character named Valerie Da Vinci, voiced by actress Jenny Slate. But what about those weirdly adorable yellow creatures that always steal the show — who voices the Minions in Despicable Me 3?
The Minions were created by Pierre Coffin, a French animator and director. Coffin also provides all the voice talent for every single quirky little Minion fans have seen on screen since the Despicable Me franchise first launched in 2010. One glaring omission from the Minions strange little universe is the fact that there are no female Minions. While some male Minions do dress up in female costumes in some of the films, Coffin has good reason for not making any of them strictly female. "Seeing how dumb and stupid they often are, I just couldn't imagine Minions being girls," Coffin told The Wrap in 2015 when Minions was released.
Coffin has also directed every Despicable Me film, as well as Minions. His inspiration for these oddly cute Twinkie-like beings started with something far more menacing: Coffin initially imagined the Minions as "muscular brutes," he told The Guardian in 2015. Unfortunately for Coffin and his creative team, they discovered it made Gru far less appealing of a character to have an army of hulking goons, so they softened up the Minions into something far more approachable. Coffin said:
To make [Gru] charming, we had this idea that he'd know all of his little helpers by their forenames, even though there were hundreds, and suddenly Gru was sympathetic. We then put goggles on them, added workers' overalls, making them look like these subterranean mole men-type creatures, gave them an increasingly saturated yellow skin tone and then they became the Minions. And from that first scene we knew they gave the other characters counter-balance, had great comedic potential and were super cute.
The Minions have provided Coffin and the stars of the Despicable Me with more than an adorable army of goofy-but-lovable sidekicks of questionable origin: The Minions have become a multi-billion dollar entertainment franchise. According to The Los Angeles Times, the Despicable Me franchise is worth $2.7 billion as of June 2016 — and that's not including any of the merchandise and tie-ins leading up to the release of the fourth film in the Minions' universe.
Despicable Me 3 and all its Minion glory come to theaters Friday, June 30. Catch a sneak peek at all the adorable hilarity in the Despicable Me 3 trailer above.