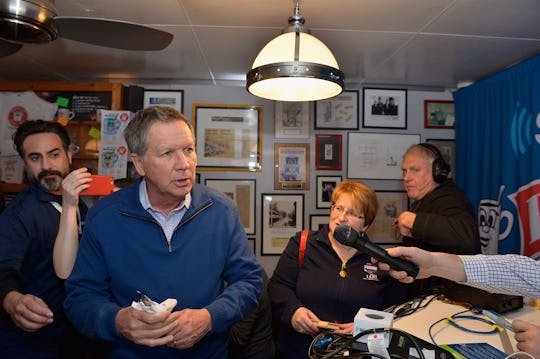 Paul Marotta/Getty Images News
Who Votes In The New Hampshire Primary? The Voters Don't Represent The US Accurately
All eyes are on New Hampshire on Tuesday, as the state conducts its customary first-in-the-nation presidential primary elections, which often offer an important prediction of the way the rest of the country is leaning. But do New Hampshire voters truly speak for all Americans? Just who votes in the New Hampshire primary? While you might be picturing the average resident of the Granite State as a grizzled old man whose family has lived in the White Mountains for generations, you'd be mistaken: about two thirds of New Hampshire residents were born in other states, according to The Boston Globe. Only six states have smaller native-born populations than New Hampshire. And ABC News reported that New Hampshire experienced an 11 percent growth in population from 1990 to 2000, which is leading the state to lean more to the left.
But the results from New Hampshire's last primary aren't even necessarily indicative of how votes could turn out this time around: more than 30 percent of this year's potential voters didn't vote in the last primary, according to USA Today. In addition to all the transplants, 129,000 New Hampshire residents turned 18 between 2008 and 2015, and therefore weren't old enough to vote in the last primary or two.
So who are these people? As of December 2015, 229,202 of New Hampshire's 873,932 voters were registered as Democrats, 260,896 were registered as Republicans, and a whopping 383,834 were undeclared, meaning that they could vote for either party in the primary on Tuesday.
According to U.S. Census Bureau data, as of 2014, 94 percent of New Hampshire's citizens identified as white (compared to 77 percent nationally), 1.5 percent identified as Black, 2.5 percent Asian, and 3.3 percent Hispanic or Latino. Only 5.4 percent of New Hampshire's residents are foreign-born — less than half of the national average of 12.9 percent — and, while more than 20 percent of U.S. citizens speak a language other than English at home, New Hampshire's foreign language speakers number only 8 percent.
New Hampshire residents are also slightly more well-off than the average American. The median income there is $33,134, compared to a national average of $28,155. And while 15.4 percent of U.S. citizens live below the poverty level, only 8.7 percent of New Hampshire residents do so. They're also better educated than others; 91.8 percent have graduated high school, versus 86 percent nationally, and 33.7 percent have obtained a bachelor's degree or higher, compared to 28.8 percent nationally.
Household makeups are on par with national averages, with 30.4 percent of households including a child under 18, and 25.2 percent including a person over 65. The national numbers are 32.9 percent and 25.5 percent, respectively. Other than that, though, New Hampshire's voters aren't very representative of the average American voter. But, like it or not, because they get to vote first, their votes matter – a lot. In fact, according to The New York Times, one vote in the New Hampshire primary is worth five votes in other states. Let's hope they get it right.