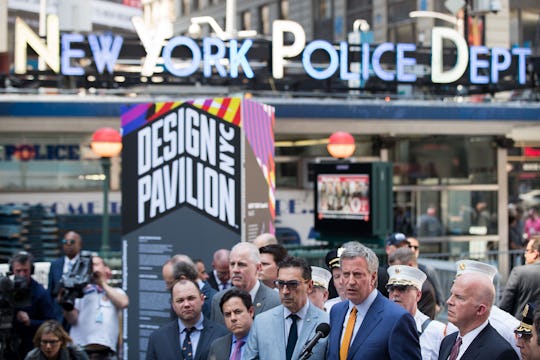 Drew Angerer/Getty Images News/Getty Images
Times Square Crash Victim Had A Full Life Ahead Of Her
The Times Square car crash victim who lost her life Thursday afternoon was just a teenage tourist visiting the city with her family. Many are horrified at the tragedy, wondering who Alyssa Elsman was and how her family is coping in the immediate aftermath. The 18-year-old posted on Instagram about 30 minutes before she was struck and killed next to 22 others, four of whom still remain in critical condition.
Elsman, a native of Portage, Michigan, was visiting New York City with her 13-year-old sister, Ava, who was also struck by the vehicle and was then rushed to a nearby hospital. Her mother and a friend also made the trip, but are reportedly unharmed. A 26-year-old man was allegedly at the wheel of the car that plowed through the busy city intersection. The man had allegedly been arrested for driving while under the influence in the past, but was found not to have been under the influence of alcohol after Thursday's crash.
A 2016 graduate of south Michigan's Portage Central High School, Elsman's high school paper indicated that she'd made plans to attend West Michigan University. Her Facebook page shows that Elsman was a huge sports fan, supporting the nearby Detroit Tigers, Green Bay Packers, Detroit Red Wings, Detroit Lions, and the University of Michigan's football team. Her Instagram shows that Thursday's visit wasn't her first excursion to New York — in 2016 she posted a photo standing on Time Square's famous red steps. On Thursday afternoon, Elsman posted an Instagram Story from that very same vantage point, before tragedy struck. In addition to selfies, Elsman's Instagram gallery also shows graduation shots, along with snaps from vacations to the beach, Niagra Falls, and Chicago.
Elsman's boyfriend, Trevor West, shared his grief with The New York Post. "She motivated me, loved me, gave me everything I needed that I couldn't give myself. And now that she's gone, I don't know how I'm going to fill that void," West said.
Elsman's community at her former high school is also feeling the loss quite deeply. Principal Eric Alburtus told The Detroit Free Press that "Alyssa was [a] wonderful young lady," known all around school for her baking skills. "When you first got to know her," Alburtus said, "you would perceive that she was shy or quiet. The more you got to know her, the more you would realize she was funny, and thoughtful, and compassionate to other people."
Currently, messages of peace are flooding Elsman's social media profiles, with friends and strangers alike offering support to Elsman's family and compassion for their terrible loss — one felt not just in Portage, but all over the nation, too.