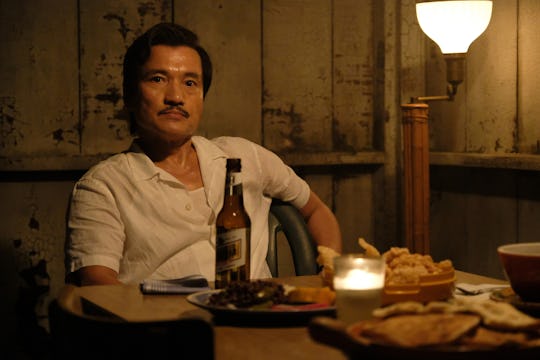 Ray Mickshaw/FX
Andrew Cunanan's Father Was An Important Figure In His Son's Life
Throughout The Assassination of Gianni Versace, viewers have received tidbits of information about Andrew Cunanan's dad, but it's impossible to know what to believe. Andrew said his dad lived in the Philippines and operated a pineapple plantation. He said his dad flew planes for Imelda Marcos. He said his father was a stockbroker. But which is the truth? Who was Andrew Cunanan's father?
Some of what Andrew said about his father in Versace was accurate, though it can be hard to extricate it from his inventions. His father Modesto Cunanan, who also went by the name Pete, was originally from Baliuag in the Philippines and he joined the U.S. Navy shortly after immigrating to the States. According to Maureen Orth's Vulgar Favors (the book that served as the inspiration of the FX series) he met Andrew's mother Mary Ann in Long Beach in 1961, at a bar where she was working as a waitress. "He was dressed in a white tuxedo, and I thought he looked like a Filipino Errol Flynn," Mary Ann told Orth.
They married later that year and would eventually have four children in total: Christopher, Elena, Regina, and Andrew. But their relationship became increasingly fraught as the years went by.
Though Orth reported that Modesto denied it, Mary Ann alleged that he was physically abusive throughout their marriage. He was convinced that Mary Ann had been unfaithful to him and that Elena was not his biological child, citing her blonde hair and blue eyes as evidence. It seems Modesto and Mary Ann were far from happy together, with Andrew's godfather Delfin Labao telling Orth, "[Modesto] abused her so much. It was a very sad marriage."
The one thing Modesto and Mary Ann could agree on, however, was their love for Andrew. As the baby of the family, he was especially doted on by both his parents and lavished with material things. Andrew was the only one of his siblings to attend a prestigious private school and, like he boasted to David Madson on Versace, he took over the master bedroom at home and had his own car. His brother Christopher told Diane Sawyer that Andrew was "my father's pride and joy" in 1997, according to ABC News.
Mary Ann suffered from postpartum depression after Andrew's birth and had to be hospitalized; it seems like being solely responsible for infant Andrew intensified Modesto's bond with him. In Vulgar Favors, he bragged about raising Andrew "from the cradle" (you know, like fathers are supposed to) and later said Andrew was "more than a son to me. He was a friend."
After retiring from the Navy, Modesto worked as a lab technician to put himself through school so he could fulfill his dream of becoming a stockbroker. He worked at Merrill Lynch before moving on to Prudential Bache, then Crowell, Weedon & Co.; Orth reported that he never remained at any job for longer than two years. The family was also increasingly in debt, though Modesto continued to impart his materialistic tendencies to his youngest son. "It was upward mobility from that point on!" he told Orth of his becoming a stockbroker. "Wherever there were rich people, that's where you would find me!"
Mary Ann later accused Modesto of embezzling over a hundred grand, though he denied it. But following difficulties at work, Modesto did do something drastic: in 1988, he sold his car, the family's two homes, and vanished. Without informing his wife or children of what he was doing, he had decided to return to the Philippines. At the time, Andrew was only 19 years old. He saw his father once more, visiting him abroad for five days not long after Modesto's sudden flight, but that was it.
Despite totally pulling his support, Modesto remained defensive of Andrew; when the murders came to light, he refused to believe that his son was a killer (or a gay man). According to the Chicago Tribune, Modesto said, "My son is not like that. He is innocent. He is not a homosexual; he had a Catholic upbringing and was an altar boy... I don't believe he did what the American police say he did."
Actor Jon Jon Briones takes on the role of Modesto Cunanan in Versace, and finally makes his appearance in "Creator/Destroyer" as the show delves deeper into Andrew's childhood. Modesto may have been an unseen character up until now, but it's clear that his impact on his son was major.
Check out Romper's new video series, Romper's Doula Diaries:
Watch full episodes of Romper's Doula Diaries on Facebook Watch.