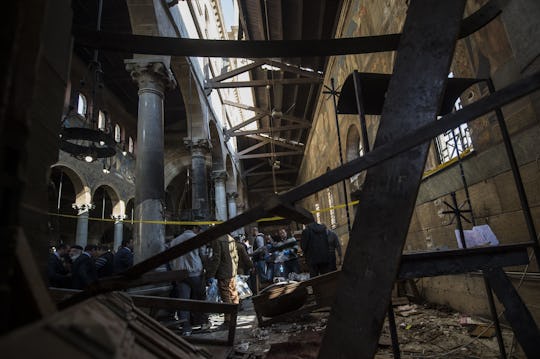 KHALED DESOUKI/AFP/Getty Images
Who Was Behind The Cairo Coptic Church Bombing? No One Has Claimed Responsibility
On Sunday morning, a TNT bomb went off at the largest Coptic Orthodox church in Cairo, killing at least 25 and leaving scores of others injured. The explosion occurred during early Sunday mass on a public holiday, and with the number of victims left in its wake, it has already become one of the deadliest attacks on Egypt's Christian minority in recent years. As of Sunday evening, no group had claimed responsibility for the blast. So who was behind the Cairo Coptic church bombing?
Until further investigations take place, it's hard to say. Most militant Islamic groups linked to recent attacks in the country condemned the act within hours. According to CNN, the Hasam Movement, a militant group who have claimed responsibility for several recent attacks in Beheira and Giza, distanced themselves from the Cairo attack soon after it took place. A statement was posted to their Facebook page that read: "Our prophet had taught us even while we fight not to kill a child nor woman nor old person nor worshiper in his place of worship."
They weren't the only independent group to disavow the attack. Officials from the Muslim Brotherhood (a group which has claimed it is not connected to the Hasam Movement, despite frequent linking of the two) also condemned the attack in Cairo, according to Reuters. The Liwaa' al-Thawra, a third group that has previously claimed responsibility for attacks across Egypt, was also quick to condemn the church attack.
According to The Washington Post, some suspect that Egypt's branch of ISIS could be behind the attack. In the past year alone, ISIS supporters have attacked soldiers, police, and officials within the country, and several supporters celebrated the attack on the Coptic church following the bombing. However, the group has yet to claim responsibility for the attack.
Soon after the blast, several Egyptians took to the streets to protest what some citizens consider a sectarian government that does not effectively investigate or punish hate crimes. "Where was the security? There were five or six security cars stationed outside so where were they when 12 kg of TNT was carried inside?" Mena Samir, 25, told Reuters. "They keep telling us national unity, the crescent with the cross ... This time we will not shut up."
Approximately 10 percent of Egyptians are Orthodox Coptic Christian, and their community has already been the target of 26 attacks this year, according to The Washington Post. The bombing that took place on Sunday, however, was one of the deadliest and most tragic assaults the minority group has endured in recent years, leaving an entire community in mourning.