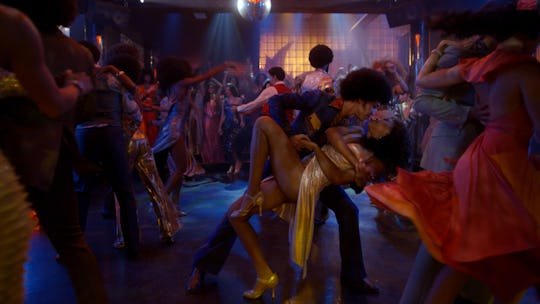 Netflix
Who Was Behind The Shooting At The Club On 'The Get Down' In Episode 1? It's A Big Threat
The very first episode of The Get Down dives right into the action, with a large portion of the episode taking place at the hottest – and most dangerous – club in town. It's a place for characters to cross paths with characters they otherwise wouldn't, and it draws all the different storylines into one. Right at the height of the club's two celebrations – the birthday party of drug lord slash club owner Fat Annie and the dance contest scrappy teen Mylene is trying to win – there is a major disruption with effects that ripple out over the next few episodes. Someone opened fire on the celebrations, but who was behind the shooting at the club on The Get Down?
The show reveals quickly who was holding the guns while hinting at a bigger threat waiting in the wings. Fat Annie didn't earn herself a drug empire – and an impressive collection of caftan looks – by sitting on her laurels, so she has a meeting with a police inspector on her payroll in an effort to get to the bottom of things. He tells her that the shooting was intended as a hit on her, but he doesn't know who orchestrated the event, only that they hired a gang called the Savage Warlords to carry it out.
Gang violence figures into the events of the show from early on, growing from a fringe threat to something that effects every character in some way. The Savage Warlords aren't a group one wants to get on the wrong side of, but the fact that someone paid them to commit the crime means there's someone even more dangerous out there. Fat Annie speculates that they were paid by Harlem (presumably an alternate drug trade; she isn't clear) to take her out, but the inspector has no idea. He does give her one name, however: a leader in the Savage Warlords called El Viejo.
It's in an effort to get information out of El Viejo's surviving little brother Napoleon that things escalate out of hand. Annie's hotshot son Cadillac and an associate at the club pick up Napoleon and a friend in an attempt to get them to snitch on who ordered the hit. Cadillac plans to get this information by intimidating the young boys into talking, and his erratic gun-waving is successful up until a scuffle ends one of the young boy's lives before he can share who hired the gang. Napoleon is able to escape.
The body of that young boy has a lasting impact on the other characters in the show, even as his death is hushed up by Cadillac. And the question of who hired the gang remains unanswered, at least in The Get Down's early episodes. It has to be someone powerful and important, someone who is likely going to try again since their first attempt was interrupted.