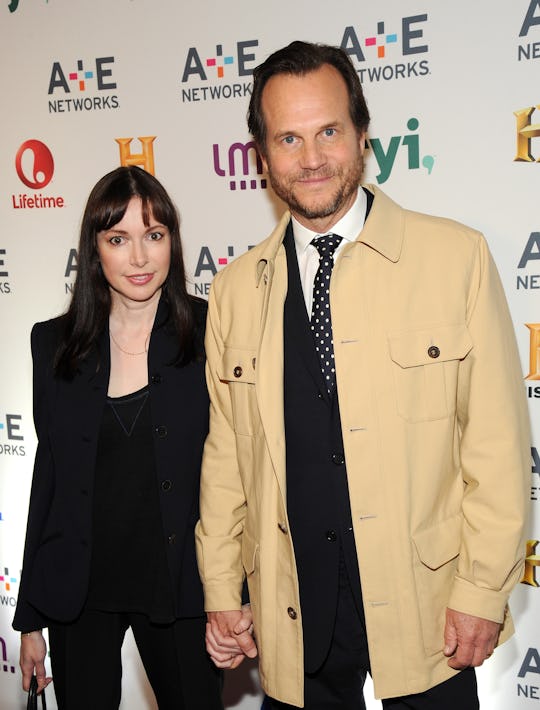 Bryan Bedder/Getty Images Entertainment/Getty Images
Fans Grieve With Actor Bill Paxton's Wife
On Sunday morning, a representative for Bill Paxton confirmed that the beloved actor had died suddenly after suffering complications from surgery. "A loving husband and father, Bill began his career in Hollywood working on films in the art department and went on to have an illustrious career spanning four decades as a beloved and prolific actor and filmmaker," the family's statement read, according to People. Fans are grieving along with those closest to him. And this is an especially heartbreaking moment for the woman to whom Bill Paxton was married for about half the of 61-year-old's life. Paxton and Louise Newbury enjoyed married life for nearly 30 years.
Paxton is known for his role in blockbusters that date back to the 1980s and include Twister, Titanic, and Alien. The thriller series Training Day, in which he stars, premiered on CBS just this month. Paxton also also recently won an Emmy for his acting work on the 2012 miniseries Hatfields & McCoys.
And Newbury was with him through most of that career, having become his second wife on May 12, 1987. According to Daily Entertainment News, the couple met on a bus when Newbury was just 17 — and "carried on a trans-Atlantic romance for five years," as he reportedly said.
Paxton was previously married to actress Kelly Rowan, and the two divorced in 1980. Much later, between 2006 and 2011 Paxton starred in the HBO series Big Love, in which he played a modern polygamist with three wives, his own church, and a state Senate seat. In real life, though, he was devoted to Newbury, with whom he has two kids. According to Daily Entertainment News, son James was born in 1994, followed by daughter Lydia in 1997.
James is following in his father's footsteps as an actor, having begun to establish himself in the business with his current role as a gay teen on the USA thriller Eyewitness. He's also been a part of some of his father's projects, including The Greatest Game Ever Played, and lauded his father for this support in a recent interview with toofab:
I'm very blessed to have him as my father, he's shared so much wisdom with me. I look up so much to him and I think family business stuff is awesome ... One thing my dad taught me is I learn everybody's name on a film set, everybody, as fast as I can. You become this crazy kind of weird family. That's something that I learned and I think it's very important.
As the family mourns Paxton's loss, they can take comfort in knowing that his legacy will live on through both his projects and his son's budding talent.