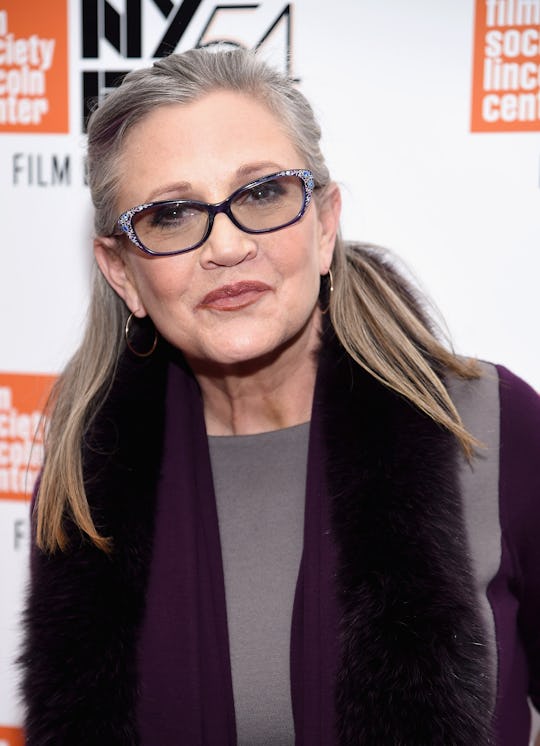 Dimitrios Kambouris/Getty Images Entertainment/Getty Images
Carrie Fisher Wasn't Shy About Love
Carrie Fisher never shied away from dealing with her personal life in her writing; in both fiction and memoirs, she was open about the things she had experienced and the people who had had a profound impact on her life. Though Fisher had several important relationships throughout her life, she was only married once. Who was Carrie Fisher married to?
Fisher was married briefly in the mid-80s to musician Paul Simon, though their relationship began in 1977 and continued for a little while even after their divorce. Fisher and Simon had something of a tempestuous relationship that seemed to have had as many unhappy moments as it did happy ones, and resulted in a lot of breaking up and getting back together. She even became engaged to Dan Aykroyd in the middle of her on and off relationship with Simon, but she chose to get back together with Simon instead of marrying Aykroyd.
Fisher went on to become involved with agent Bryan Lourd but while he is the father of her daughter Billie Lourd and has been referred to as her husband, they were never legally married. Fisher, an expert at using her incredible wit to turn stories from her life into art, discussed both relationships in her memoir Wishful Drinking.
As summed up by Fisher herself in Wishful Drinking, because no one could do it better: "Paul and I had the secret handshake of shared sensibility. We understood each other perfectly. Obviously we didn't always agree, but we understood the terms of our disagreements. [...] Anyway, Paul and I dated for six years, were married for two, divorced for one, and then we had good memories of each other and so what do you think we did? No – no, we didn't remarry. We dated again. Which is exactly what you want to do after you've been married and divorced."
Their relationship eventually did come to a more definitive end, and they both moved on to other relationships – in Fisher's case, with Bryan Lourd. They were happy together for a time, with Fisher writing that he "took really, really good care of [her]" but they broke up shortly after the birth of their daughter. Fisher recently made news again thanks to one of her books, The Princess Diarist, in which rediscovered diaries from her Star Wars days reveal an affair with Harrison Ford.
But at the end of the day it's not really about who she was involved with throughout her life. Fisher always managed to take the things that caused her pain and turn them into exceptionally eloquent stories. As she said, "If my life wasn't funny, it would just be true. And that is completely unacceptable."
Fisher always put her own unique spin on everything that happened to her, and her voice will be hugely missed now that she's gone. There was no one who said things quite like Carrie Fisher did, but finding humor in the worst moments is a lesson everyone could learn from her.