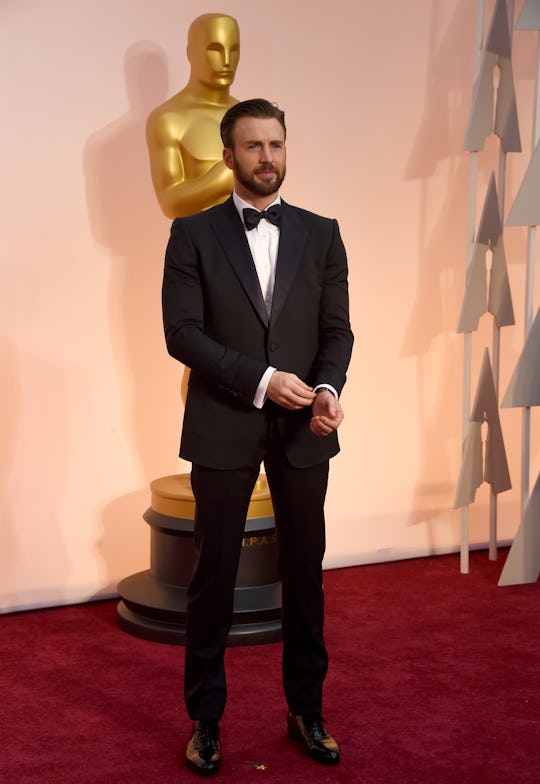 Jason Merritt/Getty Images Entertainment/Getty Images
Who Was Chris Evans With At The Oscars? His Sister Walked The Carpet With Him
He's everyone new favorite leading man, but who was Chris Evans with at the Oscars this year? Proving that he is just as nice as he is in your daydreams, Evans brought his sister Carly as his date. And she is the coolest woman ever, if only because she was so laid back about being interviewed on the red carpet and not afraid to be overly excited to be there. She owned her non-celeb status all the way. Talk about keeping it real.
She and The Avengers star both admitted to getting whiplash when Leonardo DiCaprio walked by them. "I think everyone got whiplash when he walked by," Evans joked. They bantered back and forth about who was more in charge when they were little. Turns out, she used to beat him up a little. Isn't that what little brothers are for? Evans is used to bringing family members along to his events. For the Avengers: Age of Ultron premiere last April, he brought both of his sisters and his mom as his date. Nice, right?
Evans is currently single, so he could technically have brought anyone he wanted t the show, but he chose his sister. And that's amazing. Quite frankly, his sisters seem like a lot of to hang out with. Not to mention, Twitter loved her as well:
Chris Evans already seems like a good guy. But now that we know he hangs with his sisters, he seems even more likable. There's something about a man who has sisters — they just seem to get it, right?