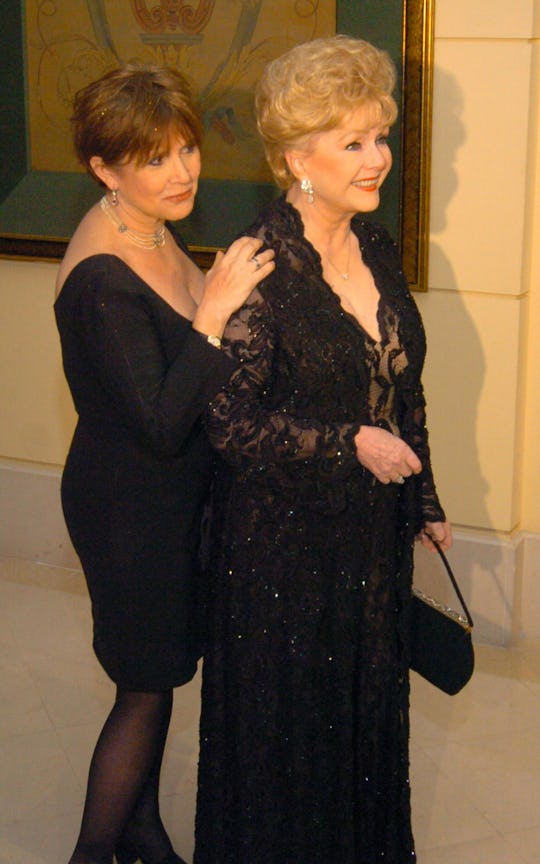 Handout/Getty Images Entertainment/Getty Images
Debbie Reynolds' Humorous Outlook On Marriage
Debbie Reynolds was a beloved actress whose career spanned generations and whose acting was loved by kids, their parents, and their grandparents. Reynolds was a mainstay in Hollywood leading up to her death — which meant details of her life, like her marriages, remained under the public eye for decades. So who was Debbie Reynolds married to? Although Reynolds' last marriage ended 20 years ago, she was definitely loved during her life, marrying three times, and managed to keep a good sense of humor about it all.
As such a famous celebrity, all of Reynolds' relationships were high profile — which unfortunately made her divorces high profile all the same. But regardless of her changing relationship status throughout her lifetime, Reynolds was definitely loved by her two children — Carrie and Todd Fisher — whom she had with her first husband, pop singer Eddie Fisher.
Eddie Fisher might be Reynolds' most famous ex-husband due to the scandal surrounding their marriage. Eddie and Reynolds married in 1955 and were then touted as "America's favorite couple," according to The Seattle Times. Eddie was a pop star with many hit songs before his marriage to Reynolds — and the marriage to Reynolds only enhanced his celebrity status.
Eddie and Reynold's marriage famously ended in a scandal — Eddie left Reynolds for actress Elizabeth Taylor in 1959. Yet, despite him leaving Reynolds and their two children behind, Reynolds managed to keep a sense of humor about the scandal, decades later. She later told People of the controversy:
[Elizabeth Taylor and I] were friends for years and years. But we had a lapse of time when she took Eddie to live with her because she liked him, too. She liked him well enough to take him without an invitation!
According to Vanity Fair, Reynolds' daughter, Carrie, saw the truth behind her parents relationship, saying in her one woman show Wishful Drinking: "My mother and father were America's sweethearts. They literally received that tag. Even my parents sort of went along with the assumption that they were a good couple, but they probably weren't a good couple."
Reynolds' then married her second husband, shoe manufacturer Harry Karl, in 1960. According to The Daily Mail, Reynolds' described Karl as "a sweet man who loved my children and me ... he just loved my money more." In Reynolds' most recent book, Unsinkable: A Memoir, Reynolds' claimed that Karl had "wiped out" the family "financially" and was an "unfortunate man" according to The New York Post. The couple later divorced in 1973.
Reynolds' third and final marriage was to real-estate developer Richard Hamlett, whom Reynolds' described as "brave, loyal, and loving" in her 1988 memoir Debbie: My Life, according to The New York Post. "Marrying him felt right, we seemed to be kindred spirits," Reynolds wrote in Debbie: My Life. However, the couple divorced in 1996. In Unsinkable: A Memoir, Reynolds recalled that she allegedly "feared for her life" while she was with Hamlett.
Despite her high profile marriages and divorces, Reynolds maintained a sense of humor about her relationships throughout the years, according to Vanity Fair. "My three husbands all left me for another woman and obviously I wasn't a very sexual lady," Reynolds told The Express in 2015. "My husbands all repeatedly said the same thing — that I was not a very passionate woman."
"It seemed as if I was more interested in raising my children, not in pursuing my husbands," she said. Given the successful — albeit sometimes bumpy — career that her daughter Fisher had and the sweet mother-daughter relationship the two women maintained in later years, it's safe to say that focusing on her family was the right choice.
Reynolds is survived by her son Todd and her granddaughter, actress Billie Lourd.