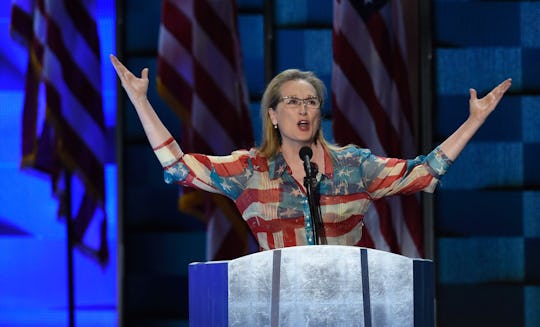 SAUL LOEB/AFP/Getty Images
Who Was Deborah Sampson? Meryl Streep's Speech Name-Checked America's First Woman Soldier
Meryl Streep's speech at the Democratic National Convention on Tuesday night was not only inspiring, it was educational. Streep's remarks began with her telling the story of "the first woman to take a bullet for our country," and left listeners with two important questions: who was Deborah Sampson, and why didn't Meryl Streep teach my ninth grade history class? Forget about Paul Revere, let's hear more about the woman who disguised herself as a man in order to "defend a document that didn't fully defend her" in the American Revolution.
According to the National Women's History Museum, Sampson, born in December of 1760 in Plymton, Massachusetts, fought in the Revolution under the name Robert Shurtlieff for two years, and just like Streep described, she really did take a bullet. John Quincy Adams once lauded her service as "virtue of supererogation of the very highest and noblest order." In 1983, 200 years after her honorable discharge from the Continental Army, she was named the official state heroine of Massachusetts. Gov. Charlie Baker also declared May 23, 2016 to be Deborah Sampson Day. And still, most people hadn't heard of her until Streep's speech on Tuesday night. One can't help but wonder if having a woman president would lead to more stories like Sampson's being shared.
Descended from Governor William Bradford and Captain Myles Standish, Sampson was one of Jonathan Sampson, Jr. and Deborah Bradford's seven children born into poverty. When she was 5, her father abandoned the family and moved to Maine. With her mother unable to provide for the children, Samson and her siblings were sent away to various families, and she eventually became the indentured servant of Jeremiah Thomas. Although she had no formal education, she learned to read and write well enough that when she turned 18 and her conscription to Thomas ended, she was able to make a living as a schoolteacher.
In May of 1781, disguised as Robert Shurtlieff, Sampson enlisted in the Massachusetts Fourth Regiment, and marched 200 miles to West Point, New York, to join Captain George Webb's Company of Light Infantry. During a battle with a band of Tories the following year, Sampson suffered a sword slash to her forehead, and was shot in the upper thigh. Her forehead wound was treated at a field hospital, but she concealed her thigh wound from the doctor, and later dug the musket ball out of her own leg with a knife.
In 1783, Samson became ill and lost consciousness. Dr. Benjamin Binney removed her clothing to treat her, and discovered her secret. He outed her to Gen. John Paterson, whom she was serving under at the time, and she was relieved of duty, but incredibly, she received an honorable discharge. Two years later, she settled in Sharon, Massachusetts, marrying Benjamin Gannett. The couple had three biological children, and also adopted an orphaned girl, according to the Canton Massachusetts Historical Society. In 1802, she embarked on a yearlong lecture tour, enthralling sold-out audiences with her amazing story. Still, the Gannetts struggled financially, and Sampson's friend Paul Revere (that guy again!) lent her money, and successfully lobbied Congress to pay her a pension for her service to her country.
After his wife's death in 1827, Gannett petitioned for payment of her pension, and Congress passed an act awarding the family the money in 1838. It was during the passage of this act that Adams praised Sampson, noting that "the whole history of the American Revolution records no other similar episode of female heroism, fidelity and courage." She was laid to rest at Sharon's Rock Ridge Cemetery, and memorialized with both a park and a statue outside of the public library. Now if only Streep would produce a movie about her life.