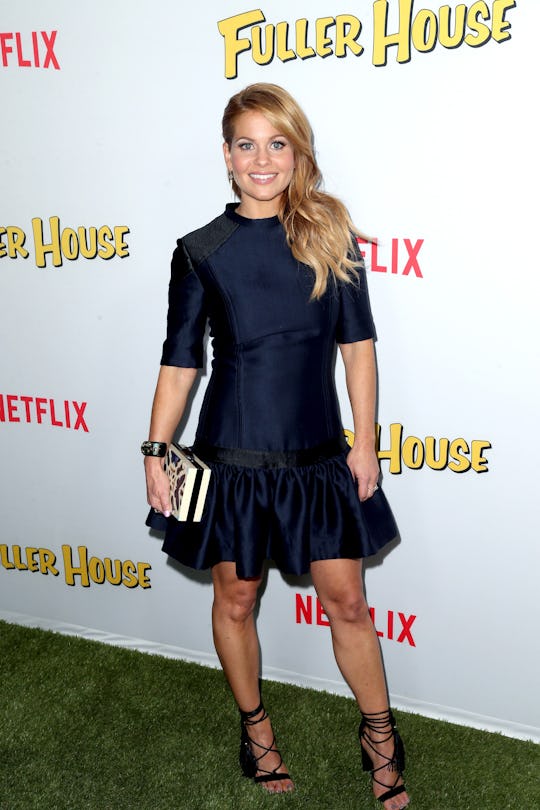 Frederick M. Brown/Getty Images Entertainment/Getty Images
Who Was DJ's Husband On 'Fuller House'? Basically, He Was Pretty Perfect
Fuller House is here — complete with all the morality lessons wrapped up in all that feel-good mushy nostalgia that we came to love every Friday night on ABC during the '90s. D.J. Tanner-Fuller — reprised by Candace Cameron Bure — is now the mom of three boys. Conspicuously absent? Mr. Fuller — D.J.'s husband. As the group gathers at the house for one last hurrah before Danny Tanner (Bob Saget) puts the old house on the market, D.J. turns to Danny and says, "Thanks for taking me in, Dad." Whoa whoa whoa — what's going on here? Who was D.J.'s husband? Where is he?
Before you start thinking that D.J.'s three kiddos have some kind of deadbeat dad, the show gets right into the Debbie Downer truth within the first 10 minutes: D.J. Tanner-Fuller is a recent widow. Oof. Although D.J. doesn't reveal how long it has been since her husband's death, her sister Stephanie (Jodie Sweetin) asks how she's been holding up. Clearly fighting back tears, D.J. replies: "I can't worry about the things I can't change. My husband died doing what he loved: fighting fires and helping people. He'd want me to be strong."
Gulp. Well, alrighty then.
That's right: D.J. is now a single mom to three little boys: Jackson, Max, and Tommy. In a very touching scene, D.J. cradles the infant Tommy, wondering how she can give him the life he deserves with no one to help her. What makes it even more poignant? The little red toy fire hat in the background.
Don't worry though: The premiere episode of Fuller House isn't a total downer. D.J.'s sad backstory pays homage to the original Full House, when Danny Tanner's wife Pam died and left him with three kids to take care of on his own. Without spoiling the rest of the first Fuller House episode, let's just say that everything works out — just like it always did at the end of every episode of Full House.
So if you were wondering if Steve Hale (Scott Weinger) — D.J.'s old high school flame and captain of our '90s hearts — bit the dust, you can breathe a sigh of relief. He's safe and sound and has a lot less hair now — but not like in an embarrassing Prince William kind of way, more like a "that's what you'd expect after twenty years of normal aging" kind of way.
D.J.'s husband's death sets up a convenient plot device on which to set the series into motion and it's clear his death has had a serious emotional impact on her. What isn't yet revealed in the first episode of Fuller House is how her husband's death affects D.J.'s children. Even more convenient? A grieving widow and the return of an old high school boyfriend...
Cue the audience "OOOOOO."