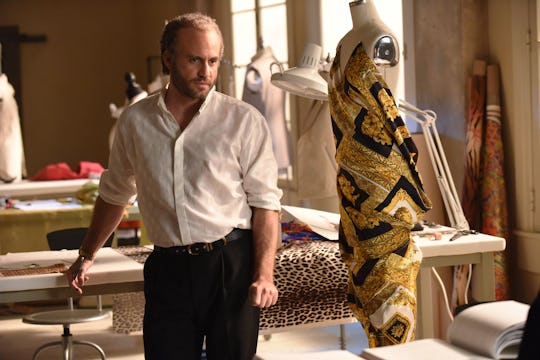 Ray Mickshaw/FX
Gianni Versace's Mother Had A Profound & Positive Impact On The Fashion Designer's Life
In "Creator/Destroyer," The Assassination of Gianni Versace looked into key moments in the early lives of its two opposing figures: Versace, and his killer Andrew Cunanan. It showed how Cunanan's upbringing set him down a destructive path, whereas the kindness and support of Versace's mother inspired him to greatness. But who was Gianni Versace's mother?
Versace has emphasized that the fashion house was a family business through and through, and it all began with its matriarch Franca. She was a successful seamstress while her children Gianni, Donatella, and Santo were growing up, and she imparted her skills to her young son. In Episode 8, she noticed Gianni's interest in design and encouraged it by teaching him how to draw and sew, which is something that seems to be based in real life.
Versace's obituary in The New York Times mentioned that Gianni considered his mother's workroom his playground when he was a child in Reggio Calabria. After graduating from high school and before forming his own brand, Gianni worked with her in the studio that had been part of the family from the start. Her influence was important to his development as a designer, and her support allowed him to follow that path.
According to House of Versace by Deborah Ball, Francesca "Franca" Olandese Versace was born in Reggio Calabria in 1920, the youngest of five. Her father was a shoemaker, proving fashion ran even deeper in the family (though, as Cunanan has noted on Versace, the company did not design shoes). As her fictionalized counterpart said in "Creator/Destroyer," Franca did want to become a doctor and was prevented from doing so by her father because she was a woman. She could only go to school until her early teens, and then had to learn a trade.
So Franca became a dressmaker and opened her own shop by the time she was 20 years old. She excelled particularly at wedding dresses, with House of Versace stating that "a Versace bridal gown was a dream for many Reggio brides, a rare burst of glamour for families of modest means." She passed on that sense of style to her son Gianni, whom Ball claimed preferred to stay in his mother's studio and learn rather than go out and play like other boys his age. The 45 seamstresses who worked for Franca doted on him as well, and Ball quotes Gianni as later saying:
My life was like a Fellini film. I grew up surrounded by all women. I was spoiled. I had twenty girlfriends and twenty mothers.
In 1965, Franca opened a boutique next to her workroom and left it to Gianni to run. He traveled and ordered clothes for the shop, developing his taste in fashion and attracting dedicated customers. Gianni's older brother Santo said, as reported by Ball, "When [Gianni] dressed you, people would tell you how great you looked and ask you where you shopped." Yet again, Franca had made it possible for her son to flourish in his chosen field.
Franca continued to support Gianni as he began to design his own clothes, though as the years passed her health worsened. She developed liver disease, but still visited Gianni and attended his shows whenever she was well enough to. House of Versace even related one anecdote about Franca taking over when one of Gianni's pattern cutters became ill, fixing a bunch of botched skirts by hand herself.
Franca passed away on June 27, 1978 when she was only 58. Of her death, Ball reported Gianni saying, "I had learned to love her with absolute abandon once I was an adult, when I could truly appreciate her strength."
It seems that Franca was Gianni's champion, helping him every step of the way as he became an icon.
Check out Romper's new video series, Romper's Doula Diaries:
Watch full episodes of Romper's Doula Diaries on Facebook Watch.