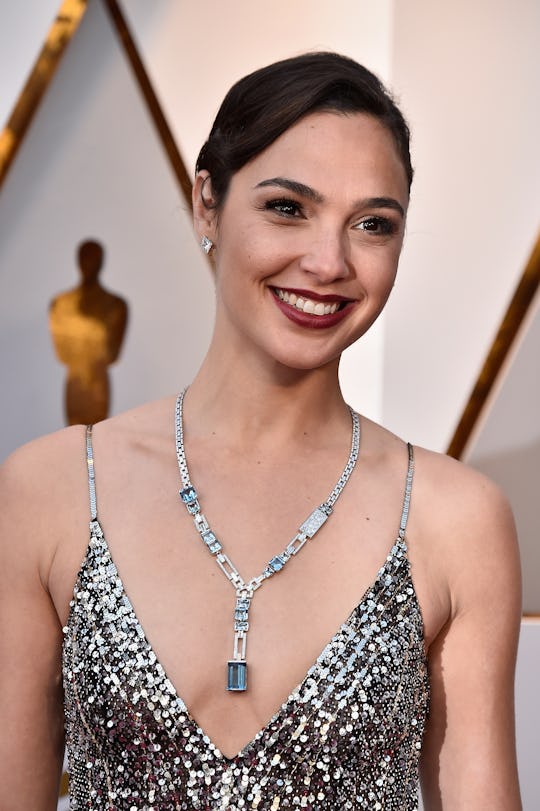 Frazer Harrison/Getty Images Entertainment/Getty Images
Here's What We Know About Gal Gadot Taking On The Role Of Hedy Lamarr
She may be known as Diana Prince to many, but Gal Gadot could be playing a different kind of Wonder Woman very soon. Sources say Gadot is close to closing a deal to headline and executive produce a series about Hedy Lamarr, according to Deadline. But who was Hedy Lamarr? She wasn't just an actress, and anyone who uses WiFi or GPS actually has a lot to thank her for.
Variety also reported that Gadot is near a deal that would see her starring in and producing a Showtime series based on the life and career of Lamarr. Gadot has reportedly wanted to tell Lamarr's story for awhile, according to io9, and now, she may have that chance.
The series has not been formally picked up, and if the deal is completed, it would be a limited series about Lamarr, Variety reported Monday. Showtime did not immediately respond to Romper's request for comment on this matter.
If Gadot is reportedly so eager to play Lamarr and to produce a series about her, she's got to be fairly interesting, right? As it turns out, Lamarr was so much more than an actress, although she was very good at her craft in that area as well.
Lamarr is probably best known for her work as an actress, in films like Samson and Delilah, Ziegfeld Girl, and Come Live With Me, io9 reported. She worked in Hollywood for decades, but she also had a much more private life as an inventor.
Lamarr was born Hedwig Kiesler to Jewish parents in Austria, and she eventually started working as a script girl at a Vienna movie studio, according to CBS News. She began acting at a pretty young age, and the rest is history. She left for America to get away from Europe — and her husband, a wealthy arms manufacturer named Fritz Mendl — and began a long and successful career there.
Lamarr was considered extraordinarily beautiful, which may be why people pay more attention to her life as an actress than an inventor. But some of her ideas contributed to many of the devices we use to this day.
Lamarr took an interest in inventing outside of the glitz and glamour of Hollywood, and anyone who uses a cell phone today is likely very lucky that she did. Lamarr patented an idea that later became the basis of secure military communications as well as mobile phone technology, the Hedy Lamarr official website reports.
Back in 1942, Hedy and composer George Antheil patented a "Secret Communication System," which was supposed to solve the problem of enemies blocking signals from radio-controlled missiles in the midst of World War II. The process involved changing radio frequencies to keep enemies from being able to detect messages, the Lamarr website biography reports.
This frequency-hopping, or spread-spectrum technology, is at the heart of wireless internet, cell phones, and GPS, Science Friday reported in 2017. Sadly, Hedy didn't get any credit for the invention until 1997.
Which is why it's so important that Lamarr's story be told as often as possible now that her legacy is out of the shadows of history. And it sounds like Gadot may be the one to bring Lamarr's accomplishments to light in the next small screen adaptation of the story of her life.
Gadot made her big debut as an actress in 2009's Fast & Furious. But she is probably best known for her work as DC superhero Wonder Woman, whom she played in Batman v Superman: Dawn of Justice and starred as in the 2017 blockbuster movie hit, Wonder Woman.
If this Lamarr series comes together, the creator and showrunner on Showtime's drama The Affair, Sarah Treem, would serve as writer and executive producer, Variety reports. Warren Littlefield, who executive produces Hulu's The Handmaid's Tale and FX's Fargo, would also executive produce alongside Gadot and her husband, Jaron Varsano.
Clearly, a very talented team could be behind this Lamarr series, which is exactly what the inventor and actress and the fascinating life she lived deserve. And if Gadot gets to be at the helm as a different, real-life version of a "Wonder Woman," all the better.