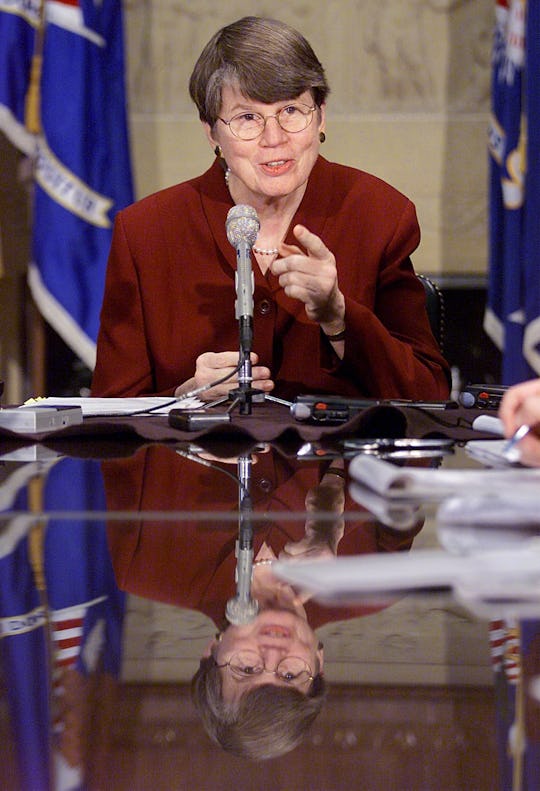 STEPHEN JAFFE/AFP/Getty Images
Who Was Janet Reno? The First Female US Attorney General Has Died at 78
The United States may be right on the verge of voting in its first female president, but long before Democratic presidential nominee Hillary Clinton had her sights set on the White House, former U.S. Attorney General Janet Reno broke through an important political glass ceiling of her own. Who was Janet Reno? In 1993, the former Miami prosecutor was appointed by then-President Bill Clinton to be the first female attorney general in United States history. Reno died early Monday at age 78 from complications stemming from Parkinson's disease, according to the Associated Press.
Throughout her long career first as a prosecutor and later as attorney general (she held the position longer than any of her predecessors), Reno earned a reputation for being strong-minded, dedicated, and someone who emphasized integrity and lawfulness above all else in her decision making, according to The Washington Post. But Reno's overall legacy is also one mired in deep controversy, thanks to her role in overseeing some of the most difficult and controversial cases in the '80s, '90s, and early '00s, including the 1980 acquittal of four white police officers accused of killing unarmed black motorcyclist Arthur McDuffie, which led to deadly race riots in Miami; the FBI siege of the Branch Davidian compound in Waco, Texas in 1993; and her involvement in the Elian Gonzalez case in 2000, in which she ordered the then-5-year-old Cuban boy who'd been found in an inner tube off the coast of Fort Lauderdale back to his father in Cuba, after authorizing a raid to remove the boy from the home of his American relatives, according to CNN.
As attorney general under President Bill Clinton, Reno was also responsible for appointing a special prosector to investigate the Clintons' involvement in the Whitewater scandal in 1994 (they were never charged with criminal wrongdoing, according to CNN), and later also had to authorize an investigation into Bill Clinton's affair with former White House intern Monica Lewinsky — something Reno said Hillary Clinton "never forgave her for," according to The Washington Post.
Despite the intense criticism Reno faced over the years though, she also became known for her commitment to trying to maintain a principled career based on doing only what she felt was right and fair, and upholding the law to the best of her ability. According to The Miami Herald, after the 1980 riots stemming from the McDuffie case, Reno specifically focused on going into black communities and listening to her many critics, many of whom called her racist and pushed for her resignation. And as Florida International University professor Marvin Dunn told the Herald, that was something that was pretty much unprecedented:
What impressed people was that she went into the black community at night without a police escort and was able to convince people that she did the best she could with the case. The woman was absolutely fearless. We were not used to white politicians doing that.
As attorney general, Reno soon found herself dealing with the fallout of the deadly stand-off and eventual FBI raid of the Waco Branch Davidian compound, which ended in the building catching fire and killing an estimated 80 people — including children — who were still inside, according to The Washington Post. Reno publicly took responsibility for the outcome, telling reporters, "I made the decision ... The buck stops with me." She later admitted that the Waco raid was the worst day of her life, according to The Associated Press.
But despite the controversy and criticism, Reno's complex and complicated legacy also included positive contributions, particularly in the realm of criminal justice (after she stepped down from being attorney general, she became involved with the Innocence Project, a nonprofit organization that works to exonerate the wrongly convicted through DNA evidence, according to The Miami Herald). And in her days as a prosecutor, Reno focused her energy on creating programs to help reform drug dealers and combat domestic violence, as well as cracking down on parents who haven't paid child support, according to the Associated Press.
But as Duke University law professor Walter Dellinger III told The Washington Post, perhaps the traits that Reno was best known for were her intense work ethic, and her desire to stay as objective as possible, and to make her decisions based solely on what the law dictated:
[Reno] was a very powerful force for lawfulness. She was always challenging to make sure there was a sound legal basis for what people were doing. And she was adamant about separating the department from politics.
Looking back on her own career as a public servant, Reno spoke positively about what she contributed, according to The Washington Post. In 1998, she told The Miami Herald, "I've had a thoroughly good time. I [had] the opportunity to serve my country and it's been extraordinary."