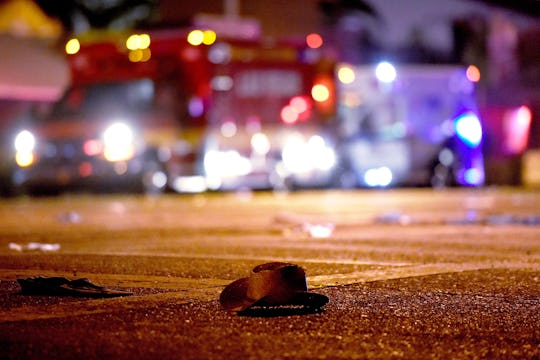 David Becker/Getty Images News/Getty Images
Jessica Klymchuk: The Las Vegas Shooting Victim Was A Single Mom Of 4
On Sunday, more than 22,000 people came together at the Mandalay Bay hotel in Las Vegas to enjoy the Harvest Music Festival. However, what should have been a night spent enjoying country music turned into the deadliest mass shooting in modern American history when a 64-year-old man opened fire on the crowd. One of the most recent concertgoers confirmed dead is Jessica Klymchuk, a Las Vegas shooting victim who was a single mom of four.
She is among the estimated 58 victims who have lost their lives — in addition to at least 515 injured — as a result of the mass shooting, according to the Los Angeles Times. Klymchuk was from Edmonton, Alberta, and she was visiting Vegas with her fiancé, as reported by WLWT5. The young mom was an educational assistant, librarian, and bus driver for St. Stephen School in Valleyview, according to The Holy Family Catholic Regional Division, reports National Post.
In a statement to the news outlet, Superintendent Betty Turpin said crisis support will be offered at the school as long as it is needed. "The scope of this tragedy is worldwide and we are feeling its impact here at home," Turpin told National Post. "Our thoughts and prayers are with the family, as well as all the families affected by this unimaginable attack."
Alberta Premier Rachel Notley offered her condolences to Klymchuk's family — although she ultimately removed her name and simply referenced the mom of four as an "Albertan victim" in an updated tweet. Edmonton Mayor Don Iveson also sent his condolences.
Prime Minister Justin Trudeau responded this morning to news of the attack. The Daily Hive in Vancouver published Trudeau's full statement on the Las Vegas massacre. Here's part of it:
Our hearts break for our American friends and neighbours today. On behalf of all Canadians, I offer my deepest condolences to those who lost loved ones and friends, and my prayers for a fast and full recovery for the many injured... We stand with the United States, and share their pain and horror at such a senseless and cowardly act of violence... Las Vegas has long been celebrated by people from around the globe, including many Canadians. We grieve with this city and the United States. Such acts only strengthen our resolve to stand together, united.
A Tennessee man named Sonny Melton was the first victim confirmed among the dead. The 29-year-old was a registered nurse at Jackson-Madison County General Hospital. He was attending the concert with his surgeon wife, Dr. Heather Gulish Melton, when shots were rapidly fired from the 32nd floor of the Mandalay Bay hotel at around 10 p.m., according to The Jackson Sun.
"At this point, I'm in complete disbelief and despair," his wife told Fox WZTV. "I don't know what to say. Sonny was the most kind-hearted, loving man I have ever met, He saved my life and lost his."
At the time her name was released, Klymchuk was the second Canadian confirmed as a victim. Jordan McIldoon, 23, was the first Canadian confirmed dead, as reported by Fox News.
More victims who have been confirmed among the 59 dead as a result of the Las Vegas massacre, according to Fox News, and authorities are working to identify those who have not yet been named.
While it may be difficult to put names and faces to each victim of the Las Vegas shooting, it's important to take a moment and remember those who lost their lives too soon due to such a senseless act of violence. Their lives are significant and deserve to be remembered and acknowledged — especially during tragic and trying times like this.