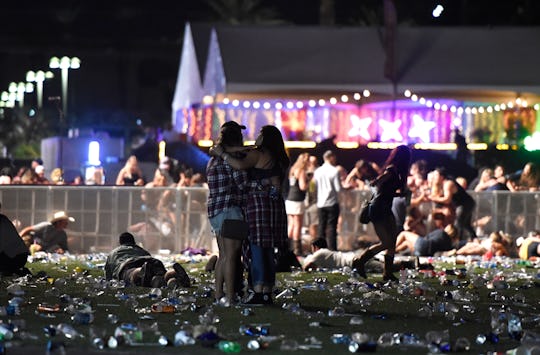 David Becker/Getty Images News/Getty Images
Jordan McIldoon: The 23-Year-Old Las Vegas Shooting Victim Died In A Woman's Arms
As more information is being released about the horrific shooting in Las Vegas on Sunday night, victims are slowly being identified. Four Canadians were reportedly among those caught in the gunfire, and two have since passed away. Jordan McIldoon was a Canadian Las Vegas shooting victim who died in the arms of a woman on-site. His parents have since spoken out about their heartbreak over his passing and provided some background information on their son.
America was shaken by the news of what would be later identified as the deadliest mass shooting that the United States has ever seen, which took place in Las Vegas, Nevada late Sunday night. A lone gunman, who reportedly died at his own hand, opened fire on a crowd of people in attendance of the Route 91 Harvest Country music festival. As of Sunday morning, the Associated Press reported the official death toll from the shooting at 59, with a minimum of 515 people injured.
The cause of the staggeringly high number of deaths and injuries can be attributed to the massive crowd gathered near the shooter's location in the Mandalay Bay Hotel. The Route 91 Harvest festival drew in people from all over, with The Guardian reporting as many as 22,000 people present. Many of the identified victims have been connected to the festival.
Such was the case for McIldoon. According to the CBC, he was a 23-year-old from Maple Ridge, British Columbia who was in town with his girlfriend — who has reportedly survived the shooting — to attend the festival on the Vegas Strip. His death was confirmed by his parents, Al and Angela McIldoon, after a Facebook post was shared by Heather Gooze, a women who was on the scene and said that McIldoon died in her arms. Gooze wrote:
Friends and family, I am ok. I am right outside of the festival grounds. We are not allowed to go anywhere. I am with a young man who died in my arms! RIP Jordan McIldoon from British Columbia. I can't believe this just happened!!!
The McIldoons reportedly said, "We only had one child. We just don't know what to do," according to the CBC. They also shared that their son grew up on the McIldoon family acreage and was a "self-described cowboy boot, tattoo-covered redneck who loved the outdoors." According to the CBC, he was a heavy-duty mechanic apprentice who was about to start trade school in the Okanagan. The McIldoons told the CBC that the Canadian Consulate has been supportive in their time of need and they have received calls from McIldoon's girlfriend and Las Vegas paramedics.
Along with McIldoon, 58 other victims have been reported dead as a result of the shooting in Las Vegas, but only a small number of them have been identified at this time. According to The Washington Post, these are the victims that have been named so far.
The shooter has since been identified as a 64-year-old white man, native of the town of Mesquite, Nevada — roughly 80 miles northeast of Las Vegas, according to CNN.
Intertwined with disheartening news of loved ones left behind by the victims of the shooting are acts of heroism worthy of our attention. There are those on scene, like Gooze, who comforted the dying. There are those, after the fact, who lined up for blocks to donate their blood and help the injured. And there are those, throughout, who are outraged enough to make a difference. Learning about those who lost their lives puts a face to staggering statistics and emboldens us to take action and reminds us to hold our own loved ones a little closer.