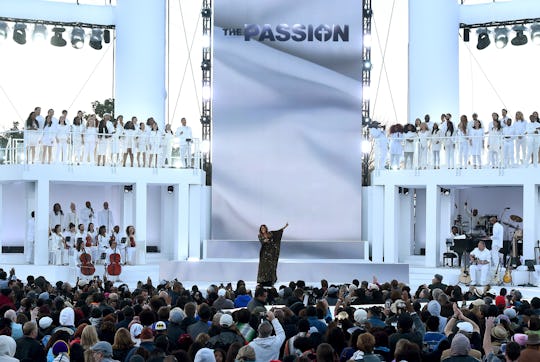 Kevin Winter/Getty Images Entertainment/Getty Images
Who Was Keshawn Bell? 'The Passion' Featured An Interview With His Mother
So far, Fox's adaptation of The Passion has been incredibly interactive, and nothing showcases that more than the mid-program interviews. As the cross made its way through the French Quarter, a Fox correspondent stopped to interview a woman who was part of the live procession with the cross. She revealed that she was the mother of a slain black teenager, Keshawn Bell. The Passion correspondent asked Bell's mother why she'd joined the night's festivities, to which she responded that she was taken with the story of The Passion because it dealt with the relationship between a mother and her son. When asked by the Fox reporter why she'd chosen to come out and be a part of the event, Bell answered:
Um, for me, this means justice, peace, and healing, the three things that I'm having faith in God and Jesus for. That he will bring justice, peace, and healing to my son, Keshawn Anthony Bell who was senselessly murdered March 21, 2013, which will be three years tomorrow.
According an article that appeared on NOLA.com in 2013, the Orleans Parish coroner's office identified the body of a 16-year-old boy found in Pontchartrain Park in 2013 as Keshawn Bell. Bell had been found shot to death by a resident who'd heard sounds that he thought were fireworks. Bell's body was discovered just before 6 p.m., the article says, by railroad tracks at the intersection of Providence Street and Prentiss Avenue. Bell was found lying face down. At that time, no suspects had been named. And during her live interview during The Passion, Bell's mother revealed that three years later, a suspect has yet to be named in her son's case.
Said Bell:
No one [has] been arrested for it, but it's still an on-going case, and my faith is in God, in Jesus, and we will get that justice, we will get answers for it.
In a November 2013 article also posted on NOLA.com, a reward of up to $1,000 was offered in return for information about what happened to Keshawn Bell, but unfortunately, as his mother made clear, his family is still waiting for answers. That same article also stated that two people had been named as persons of interested associated with the case but not in association with Bell's death. Danny Brown, 18, and Danshaun Hampton, 17, were named as persons of interest in the case, but the New Orleans Police Department added that they were not suspects in the case. There has since been no follow-up on the case, and no formal suspects have been named.
I cannot imagine how devastating it is that three years after Keshawn Bell was found dead the Bell family and the NOLA community are still waiting for answers as to what happened to the 16-year-old boy, but like so many watching The Passion, I hope that Bell appearing on national television to talk so openly about her son and his death will help coax anyone with information as to what happened to him to come forward. Though I respect and admire Keshawn Bell's mother's faith, I hope that the coming days and weeks provide her and the rest of the Bell family with answers as to what happened to Keshawn.