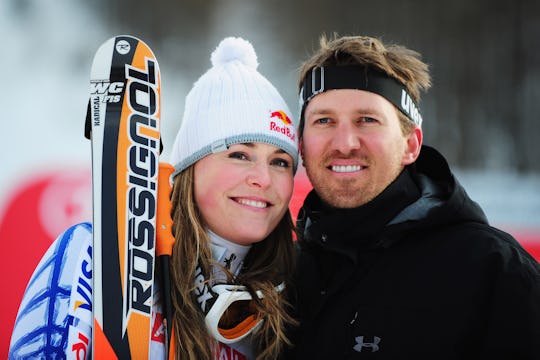 Clive Mason/Getty Images Sport/Getty Images
Who Was Lindsey Vonn Married To? Get To Know More About The Olympian's Ex-Husband
Currently, Lindsey Vonn is single, having been solely focused on the 2018 Winter Olympics. She's mentioned her current relationship status at least twice while competing in PyeongChang, South Korea, but it makes you wonder about her past boyfriends. Or, more importantly, who was Lindsey Vonn married to once upon a time and what does he do for a living?
Many die-hard Lindsey Vonn fans may already know, but as TMZ reported she was previously married to ex-husband Thomas Vonn and he is also a former alpine ski racer with the U.S. Ski Team. In addition, Thomas was Lindsey's coach for years. According to TMZ, Lindsey and Thomas married in 2007, but filed for divorce in 2011. Their divorce wasn't finalized until 2013 and Lindsey was able to keep the couple's Park City, Utah home, since she bought it prior to getting hitched.
While the Daily Mail reported 2010 was one of the best years of Lindsey's career, she was trying to navigate through a rocky personal life with Thomas. In 2012, the Olympic medalist revealed that, "Everyone saw me on TV, or read articles, and it was all about my great marriage, the white picket fence, all this success and my perfect life. But behind the scenes, it was a struggle." So, what made it all go wrong? According to the Daily Mail, Lindsey said that it wasn't just one thing. Lindsey admitted that her marriage "just wasn't working" and that it was filled with "unhappiness."
But, it wasn't always miserable for Lindsey. The ex-couple actually met in Park City, Utah when Lindsey was only 16 years old and Thomas was a 25-year-old Olympic skier, as reported by Heavy.com. With skiing as a common bond, the couple's relationship blossomed and during their marriage, Lindsey gushed to Fitness Magazine that:
We're each other's biggest cheerleaders. He supports me 100 percent. We're opposites that attract; every cliche you can think of is true when it comes to us. I'm the emotional, spontaneous one who listens to my heart, and he's logical and focuses on the details.
In addition to being Lindsey's "rock" for years, Thomas also reportedly gave her fashion advice. But, in an interview with Fitness Magazine, Lindsey admitted that both of their competitive natures sometimes worked against them. For example, Lindsey said the two couldn't even exercise together because of it. She explained:
Thomas doesn't want to work out with me ever. We're too competitive. If we're side by side on the treadmill, I'll be checking his speed. I can't help myself. He's like, "What are you doing?" I say, "I'm going faster than you!"
Perhaps this was one of the reasons the couple wasn't happy together. Or, maybe working together as coach and talent made their relationship difficult. Whatever the case, the two are no longer married.
After the couple's split, Thomas took some time away from the sport, according to the Associated Press, but he returned to coaching in 2015. At the time, Thomas talked about his come back, telling the news outlet:
Once I showed my face, a lot of people saw me around. People started wanting me to help them. It's cool how it came together after being off snow for three years — feels like you're almost forgotten sometimes.
Thomas ended up taking a job as a coach for Dean Travers, as reported by Sports Max TV.
Lindsey's most recent reported relationship was with Kenan Smith, a former assistant coach for the St. Louis Rams, became Instagram official in 2016, but their relationship ended in 2017, according to People. "Unfortunately, their busy schedules ultimately took a toll on the relationship. It was amicable and they are still friends," an insider told People of their break up. "Lindsey is laser-focused on her training for the upcoming Olympics and is leaving the country for several months to start competing."
According to WhosDatedWho, like Lindsey, Thomas is reportedly single right now. Maybe they'll reconnect someday, or maybe Lindsey will find love after PyeongChang from one of her many suitors after her heart on Twitter.
Check out Romper's new video series, Bearing The Motherload, where disagreeing parents from different sides of an issue sit down with a mediator and talk about how to support (and not judge) each other's parenting perspectives. New episodes air Mondays on Facebook.