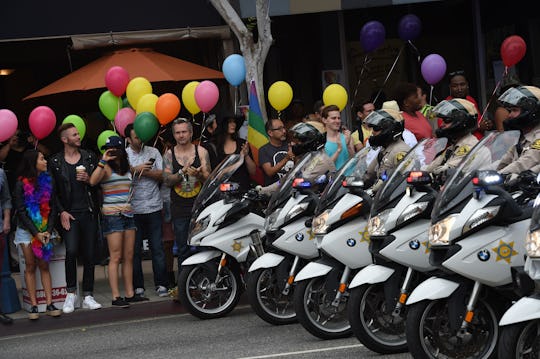 MARK RALSTON/AFP/Getty Images
Who Was Luis Omar Ocasio-Capo? The Orlando Terror Attack Victim Is One Of The First Named
Still very little is known following the worst mass shooting in U.S. history, which took place in Orlando's gay nightclub Pulse. A total of 49 people have been killed by a 29-year-old lone gunman, and over 50 are in area hospitals, wounded from the attack. Though not much has been identified when it comes to the motive for the attack — according to reports, the shooter, who was killed by police, pledged allegiance to ISIS, and ISIS has claimed responsibility — fewer was known even when it came to the victims of the attack. But the City of Orlando has created a site naming victims after family members have been notified, and a few names have been released. Including Orlando victim Luis Omar Ocasio-Capo, who was one of the first identified.
(Update: According to The Daily Beast, Ocasio-Capo is 20 years old, and, as his Facebook page says, is a dancer. The site reports that a teacher called him a "ray of sunshine."
Fusion spoke to Leonarda Flores, Ocasio-Capo's cousin, who said of the victim, "He did not care, he loved himself, and he loved others. He was very open, he lived who he was. He knew he was beautiful, he knew it, and he flaunted it."
It's also reported that Ocasio-Capo used the French flag filter on his Facebook profile photo following the terror attacks in Paris.
A former co-worker of Ocasio-Capo's, Claudia Mason, who worked with the victim at Target, said, "He lit up any area he worked in ... So sad that his life was cut so short by such an evil person.")
Ocasio-Capo was named alongside three more victims — Edward Sotomayor Jr., Stanley Almodovar III, and Juan Ramon Guerrero. And, at this point, that's all of the information that we know about Ocasio-Capo. But, as the hours pass since Sunday's terror attack, there's no doubt information surrounding his life and how he lived it will be released. As Obama said during his speech to Americans following the tragedy:
In the coming hours and days, we'll learn about the victims of this tragedy. Their names, their faces, who they are, the joy they brought to families and to friends, and the difference they made in this world.
We'll update you as the difference they made comes to light. And, in the meantime, as Obama said, we will "say a prayer to them, and say a prayer for the families."
There are still many relatives who are looking for loved ones, and Mayor Buddy Dyer is attempting to help them as well — if there is any information on possible victims, the Orlando Mayor asks that individuals call 407-246-4357.