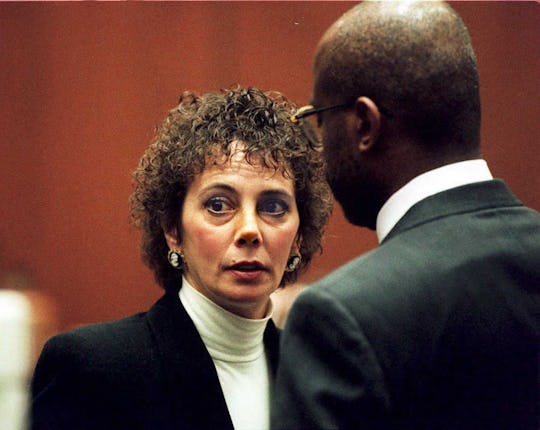 POOL/AFP/Getty Images
Who Was Marcia Clark's First Husband? She & Gabriel Horowitz Had An Interesting Relationship
Marcia Clark was just an attorney working for the Los Angeles County District Attorney's Office when she was catapulted into the public eye as the lead prosecutor of the O.J. Simpson trials. During the trials, Clark became a public figure due to high publicity of the case and who was involved. Because of this status, during the trial, private details of Clark's life were shared with the press and all of the public — and while everyone was aware of her divorce and custody battle (which is currently playing out on American Crime Story: The People vs. OJ Simpson) with ex-husband Gordon, it was also revealed that Clark had been married once before. So who was Marcia Clark's first husband?
Turns out that Clark's first husband, Gabriel Horowitz, was a professional backgammon player. According to a 1995 profile by The Washington Post, Clark was only 18 years old when she met Horowitz. Both Horowitz and Clark (who was Marcia Kleks at the time) were studying political science at the University of California, Los Angeles when they first met. The two married after Clark graduated from college and Clark then enrolled in law school at Southwestern University School of Law. The two honeymooned in St. Tropez but divorced just five years later.
In her 1997 biography, Without A Doubt, Clark recounted her marriage to Horowitz, who was a professional backgammon player during the backgammon boom of the '70s, describing her first impression of Horowitz:
Gaby — that's what his friends called him — was doubtless a womanizing cad. But he was very charming. And he was incredibly funny. Gaby's wit was never self-deprecating; the joke was always at someone else's expense. But it was always right on the mark. We began seeing each other. In less than a month I was living with him.
Clark went on to state that Horowitz was a major power player in the Los Angeles backgammon scene at the time. The two would go to clubs, where Horowitz would play poker all night and then return home at four in the morning. According to Clark, the nightclub circuit started to wear her down, and law school became her "salvation."
"Even now, I'm hard to explain why I married him," she wrote. "But in its own weird way, getting married made sense at the time."
The couple got divorced in 1981, but years later pictures from their honeymoon haunted her. The pictures, sold to The National Enquirer, showed a topless Clark in St. Tropez with her then-husband. According to the aforementioned Washington Post profile, the pictures were leaked and sold to tabloids by Horowitz's mother, who tried to explain that "it was, after all, a European beach."
Despite the hardships she faced with both of her divorces, Clark is now living a happy life and staying in the news, giving interviews to various media sites about her thoughts on American Crime Story: The People vs. OJ Simpson and the OJ Simpson trials. And as for talking about her love life? She's probably got more important things to do.