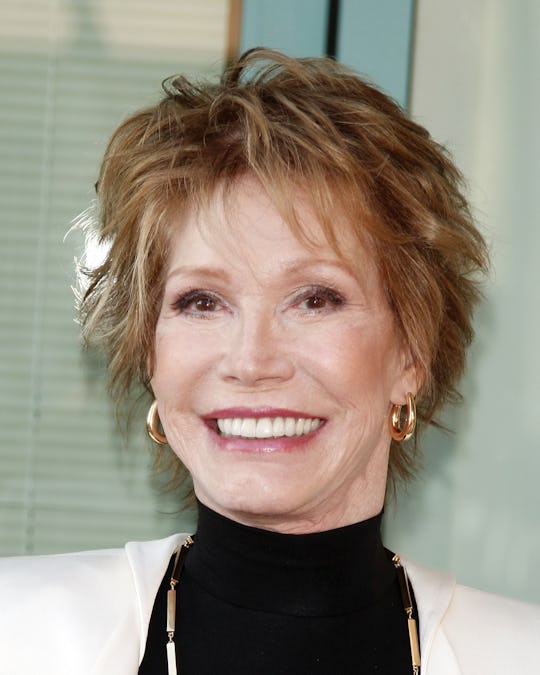 Kevin Winter/Getty Images Entertainment/Getty Images
Mary Tyler Moore's Love Story Is Epic
On Wednesday, it was revealed that actress and hilarious star, Mary Tyler Moore, has died. The funny lady was 80 years old when TMZ initially reported that she was in "grave" condition. News shortly broke that she had passed away, leaving behind her husband. But who was Mary Tyler Moore married to? The Hollywood star found love with her third husband in the early '80s.
"Today, beloved icon, Mary Tyler Moore, passed away at the age of 80 in the company of friends and her loving husband of over 33 years, Dr. S. Robert Levine. A groundbreaking actress, producer, and passionate advocate for the Juvenile Diabetes Research Foundation, Mary will be remembered as a fearless visionary who turned the world on with her smile," longtime representative of Mary Tyler Moore, Mara Buxbaum, tells Romper in an official statement.
Moore had a few loves in her life. In 1955, the actress married Richard Carleton Meeker, who she had her son, Richard Meeker, with. In 1961, the two divorced. Her son, Richard Meeker Jr., died at age 24 by a self-inflicted gunshot wound that was labeled an accident. In 1962, she married Grant Tinker, who was a CBS executive at the time of their marriage. The two formed a production company that later produced The Mary Tyler Moore Show.
But, her final love was her husband Dr. S. Robert Levine, who she married in 1983. The two married when Moore was 45 years old, and Levine was 30. Then, he was a cardiologist at New York's Mt. Sinai Hospital, according to People.
Despite finding love with one another later in life, a friend told People at the time that Moore was as excited as one could be on her wedding day. "You'd never know this is her third wedding," said one friend to the magazine. Sounds like whatever Moore experienced in her previous relationships prepared her for a marriage of pure bliss.
The couple lived in Greenwich, Conn., with their dogs — a cause that Moore was passionate about. That's not the only cause that she was known to support with all of her heart. In her many years in the spotlight, Moore fought tirelessly to advocate for those living with Type 1 diabetes, something she lived with herself.
While the time is difficult for family and friends, her impactful work and talent will live on with fans forever.