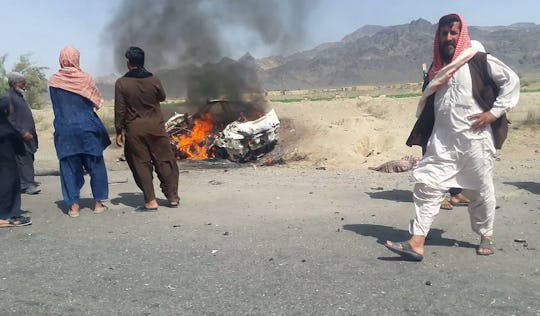 -/AFP/Getty Images
Who Was Mullah Akhtar Mohammad Mansour? The Taliban Leader Was Reportedly Killed
After a targeted U.S. drone strike, Taliban leader Mullah Akhtar Mansour was killed in Pakistan, U.S. and Afghan officials confirmed Sunday. Mullah Mansour had long been active in the Islamic fundamentalist movement and became the Taliban's leader last year. While he may not have had the same name recognition with most Americans as some other prominent extremist figures, leading many to wonder exactly who Mullah Akhtar Mansour was, his death is widely significant, and could have huge ramifications on the Taliban moving forward.
According to CNN, when discussing the targeted drone strike, Secretary of State John Kerry said at a news conference that Mansour "was directly opposed to peace negotiations." Kerry continued:
We have had longstanding conversations with Pakistan and Afghanistan about this objective with respect to Mullah Mansour, and both countries' leaders were notified of the airstrike. And it is important for people to understand that Mullah Mansour, as I said a moment ago, has been actively involved in planning attacks in Kabul, across Afghanistan, presenting a threat to Afghan civilians and to the coalition forces that are there.
Pakistani officials however said that they were only notified after the strike happened, an act which Pakistan's Ministry of Foreign Affairs said, in a statement, "was a violation of [Pakistan's] sovereignty, an issue which has been raised with the United States in the past as well."
The strike reportedly hit Mansour's car as it traveled near the border of Pakistan and Afghanistan. A second male combatant who was in the car with him was also likely killed, but, according to U.S. officials, there was no collateral damage. President Obama authorized the strike.
Mansour's brief time as the leader of the Taliban was marked by strife. He replaced longtime leader Mullah Mohammed Omar in 2015, though Omar died in 2013 and Mansour served as acting head in the two years that Omar's death was kept secret. Once he was officially announced as the new leader, Mansour quickly tightened his grasp on the organization and led the Taliban to capture an important city, something they had not done in 15 years. Still, many top commanders within the Taliban reportedly did not trust him. In fact, many of these commanders stormed out of the meeting where his new position was announced.
Now that he is gone, there is sure to be a leadership struggle within the movement, and perhaps further destabilization. As Michael Kugelman, a senior analyst for the Wilson Center, told Time,
I imagine there will be a long, ugly, drawn out succession battle, and especially because unlike with the case of Mullah Omar, the loss of Mansour was sudden and unexpected. In a fragmented organization like the Taliban, there are no clear cut successors and there is no clear cut process to select one.
We will have to wait and see whether this makes Afghanistan peace talks more likely, as U.S. leaders are hoping, or if it exacerbates the violence.