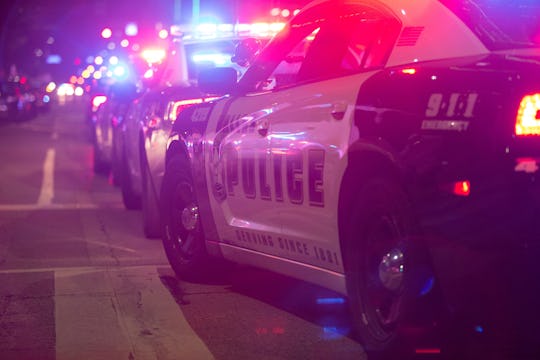 LAURA BUCKMAN/AFP/Getty Images
Who Was Officer Patrick Zamarripa? He's Remembered As A Family Man & A Military Veteran
The deadly shootings at a peaceful protest in Dallas on Thursday have now left five police officers dead. As the identities of the slain officers become known, it's important for the public to remember these officers are not only a number in what has now become known as the deadliest day for law enforcement since Sept. 11, 2001. So, who was Officer Patrick Zamarripa? According to social media posts, the officer was a loving family man and a proud military veteran.
Zamarripa wrote on his Twitter bio that he was "addicted to the thrill of this job" and that he loved his "country, Texas, family, God, friends, and sports." His profile photo on Twitter is of him holding a baby girl, who presumably is his daughter, both dressed in patriotic colors, reflecting how he's been remembered by his loved ones on social media.
Friends and relatives' posts and photos on Facebook and Twitter further lamented this social media description. "Family man and military veteran," friend Dylan Martinez posted on Twitter. "Just not right."
Another Twitter user called him a "Texas legend" who "fought valiantly on the streets of Dallas."
Posts on Facebook describe the 32-year-old officer as a great husband and a loving father and friend.
Identified by The Sun as Zamarippa's stepbrother, Gilbert M. Martinez, wrote this tribute on Facebook:
It saddens me to hear about my cousin Patrick. He was killed in Dallas last night in the line of duty, no words can express the ignorance of today's society. My thoughts and prayers are with his wife, and kids he leaves behind. Until Valhalla #bluelivesmatter.
Another cousin wrote in a Facebook post with a photo of Zamarippa: "I undersstand [sic] the anger and pain people are feeling for the men killed wrongly by the police, but the man you see here had nothing to do with the those incidents."
The officer often posted about his love for America and his work as a police officer on social media. His most recent patriotic post was on the Fourth of July.
According to The Sun, Zamarripa's father, Rick Zamarripa, confirmed his son's death to reporters:
Most of you already know this by now today in Dallas, my son is a police officer in Dallas he was working there the rally in downtown where my son was shot and killed by a sniper along with four other police officers maybe more at this moment. I'm still at the hospital here in Parkland Hospital to see him be moved to the medical examiner's office – need prayers to get through this.
News of the officer's death has been met with an abundance of disbelief and sorrow along with touching memories. As Zamarippa's family and friends grieve this tremendous and unthinkable loss, the nation needs to remember that to truly combat the far-too-prevalent problems of gun violence and racial injustice in the United States, we need to unite, not divide.