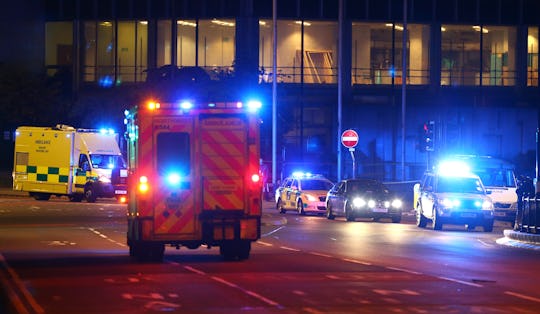 Dave Thompson/Getty Images News/Getty Images
Manchester Bombing Victim Olivia Campbell Was Only 15
As confirmation of the victims from Monday night's Manchester bombing pours in, the devastating fallout from the attack continues to grow. On Tuesday night, CNN confirmed that 15-year-old Olivia Campbell died in the Manchester bombing. Campbell had previously been reported among the missing, with her loved ones trying frantically to find her, and her photo circulating widely on social media along with pleas for any information. However, on Tuesday night, Campbell's mother took to Facebook to share that the family had received the news they'd all been fearing.
Campbell had attended the Ariana Grande concert where the attack occurred with her friend Adam, to celebrate his birthday. Her stepfather, Paul Hodgson, told CNN, "It was like a dream come true to her." Campbell loved singing and music, and called her mother, Charlotte, from the arena before Grande came on to share her joy at being there. In a heartbreaking video interview on CNN that aired while Campbell was still listed as missing, a tearful Charlotte shared that the last she heard from her daughter was that phone call, in which "she thanked me and said she loved me."
But on May 23, Charlotte published a Facebook post that read,
RIP my darling precious gorgeous girl Olivia Campbell taken far far to soon go sing with the angels and keep smiling mummy loves you so much
Campbell was from Bury, England, a town in Greater Manchester. On her public Facebook page, she shared her excitement at having been a bridesmaid a little over a week ago at her father's wedding to her stepmother, as well as her love of TV shows like 13 Reasons Why and Orange is the New Black. She tagged her friends in funny memes about unhelpful teachers, and seemed full of spirit and life.
Monday night's attack at Manchester Arena, in which a suicide bomber detonated an explosive as fans began to leave the concert, has so far resulted in 22 fatalities, and many more injuries. Since Grande's fan base is largely made up of younger audiences, the victims included children and teenagers. It was a devastating ending to a night which, for so many young people, was supposed to be about celebrating the joy that Grande's music brought them, with a community that understood.
Thousands of people shared Campbell's photo when she was still listed as missing. Since her mother's confirmation on Facebook, condolences have poured in from all over, with many expressing their grief that Campbell's life was taken so soon.
RIP Olivia. The world is a much sadder place today.