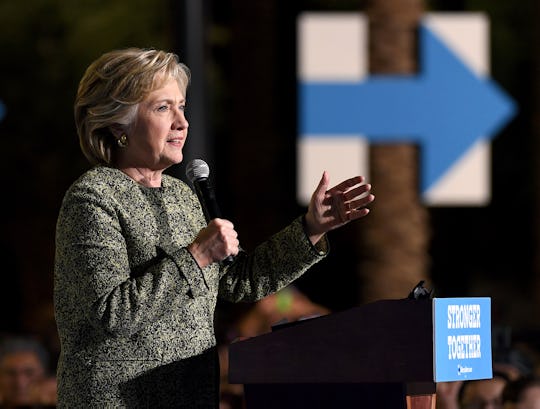 Ethan Miller/Getty Images News/Getty Images
Who Was On Hillary Clinton's VP List? The Newest Email Leak Includes Bill Gates & Tim Cook
It turns out Virgina Sen. Tim Kaine likely had some serious competition to snag a spot on the Democratic ticket. A newly-leaked email from campaign chairman John Podesta revealed that a surprising selection of leaders made what appears to be the initial shortlist of Democratic presidential nominee Hillary Clinton's potential picks for vice president. Who was on Hillary Clinton's VP list? Two of the more surprising candidates included Microsoft co-founder Bill Gates and Apple CEO Tim Cook, according to Mashable.
Designated by Podesta as the "first cut of people to consider for VP," the Clinton campaign email published by Wikileaks includes 39 names, NBC News reported. The authenticity of the email has not been confirmed by the Clinton campaign. Organized into what Podesta called "food groups," the list includes names of prominent figures in politics, business, philanthropy, and the military. Some individuals who made the list will be familiar to voters who followed early speculation about people Clinton might choose: New Jersey Sen. Corey Booker and New York Sen. Kirsten Gillibrand, for example. Back in June, CNN reported the three frontrunners for Clinton's vice presidential pick as Massachusetts Sen. Elizabeth Warren, Urban Development Secretary Julian Castro, and the ultimate winner, Virginia Sen. Tim Kaine; all of their names are listed in the leaked Podesta email.
Not all of the names on the list were quite as predictable. Tech giants Gates and Cook were unexpected picks. Philanthropist Melinda Gates (co-founder of the Bill & Melinda Gates Foundation) and Rockefeller Foundation president Judith Rodin both made it, in addition to a number of prominent CEOs: Starbucks' Howard Schultz, The Coca-Cola Company's Muhtar Kent, Xerox's Ursula Burns, and General Motors Company's Mary Barra.
Clinton even considered two people who challenged her candidacy: Vermont Sen. Bernie Sanders and CEO of Bloomberg L.P. Michael Bloomberg. While Sanders opposed Clinton in the primary, Bloomberg considered running for president as an independent, according to the Chicago Tribune. Sanders endorsed Clinton in July, citing the imperative to keep Republican presidential nominee Donald Trump out of the Oval Office as his reason for teaming up with his opponent prior to the Democratic National Convention, CNN reported. Bloomberg endorsed Clinton at the DNC later that month, according to CNN.
Though the dynamics of both the Democratic and Republican campaigns have shifted significantly since Podesta reportedly sent that list of vice presidential picks in March, many of the individuals named have played a role in pushing Clinton's candidacy forward.