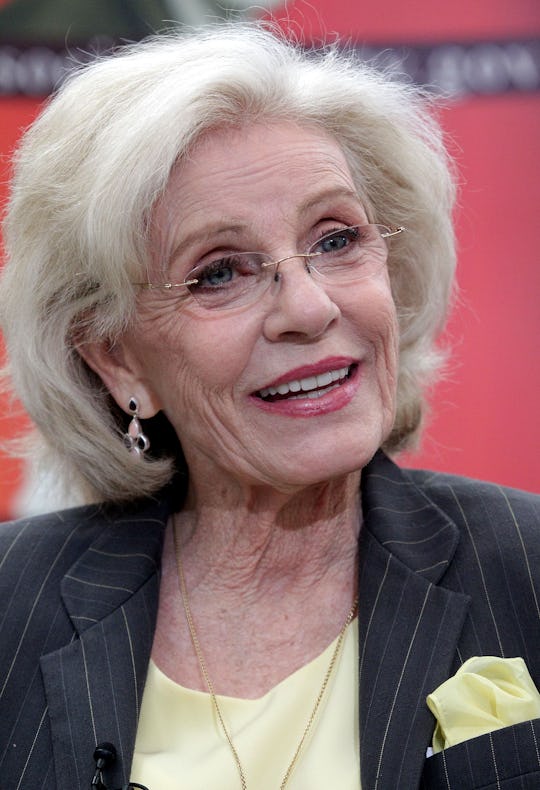 Frederick M. Brown/Getty Images Entertainment/Getty Images
Who Was Patty Duke Married To? Her Husband & Family Will Miss Her
Triple threat of film, stage, and television Patty Duke died on Tuesday in a hospital in Coeur D'Alene, Idaho; the Hollywood legend was just 69 years old. Mitchell Stubbs, a representative for Duke, confirmed the news of Duke's death. Duke died of sepsis as the result of a ruptured intestine. Duke had been living in Idaho for the past 28 years with her current husband, Michael Pierce — her fourth husband, to be exact. Answering "who was Patty Duke married to" is a bit of a loaded question, as Duke's love life was one of much drama throughout her life.
Born Anna Marie, Duke was best known for her Academy Award-winning role as Helen Keller in the 1962 film, The Miracle Worker, when she was only 16 years old. She would later go on to have a tremendously successful career on the stage, in film and TV, and even briefly as a singer. Unfortunately, marriage proved to be less successful for the Hollywood star until she reached her 40s. Duke married her first husband, director Harry Falk, when she was just 19 years old: Falk was 13 years older than she and their marriage ended in divorce in 1969.
1970 was a particularly tumultuous year in Duke's love life. She dated Desi Arnaz, Jr., much to the very public protestations of Arnaz's mother, Lucille Ball. After the two broke up, Duke began relationships in rapid succession and at times, overlapping. Duke began a relationship with fellow actor John Astin; shortly after, Duke began a relationship with a rock promoter named Michael Tell. In June of that year, Duke learned she was pregnant. Duke and Tell got married on June 26, 1970, and their marriage lasted only 13 days, ending in an annulment.
Duke resumed her relationship with Astin following her divorce from Tell and gave birth to a boy, Sean Astin, in 1971. Astin has since become a successful Hollywood actor himself, most notably in the role of Samwise Gamgee in The Lord of the Rings trilogy of films. Her son's paternity was shrouded in doubt for many years: Duke herself spoke publicly that she thought either John Astin or even Arnaz, Jr. was Sean's father. In 1994, a paternity test confirmed that Michael Tell, Duke's second husband of just 13 days, was Astin's father.
Duke would marry John Astin in 1972; Astin adopted Sean as his son that year as well. The following year, their son Mackenzie Astin, was born. He would also grow up to be an actor as well, but he hasn't achieved the same level of success as older brother Sean. Duke and Astin divorced in 1985, after a 13-year marriage where they worked together on many projects throughout their time together as a married couple.
Michael Pierce, a drill sergeant, would be Duke's fourth and final husband up until her death Tuesday. Duke met Pierce when he was a consultant on the TV movie A Time To Triumph. They married in 1986 and adopted a son named Kevin in 1988. The couple recently celebrated their 30th wedding anniversary on March 15, as announced in one of Duke's last few tweets before her death:
Duke is survived by her husband, Michael; her three sons: Sean, Mackenzie, and Kevin; and three granddaughters by son Sean: Ali, Elizabeth, and Isabella. Her husband Michael tweeted on Wednesday that information on Duke's funeral services will be announced "very soon."