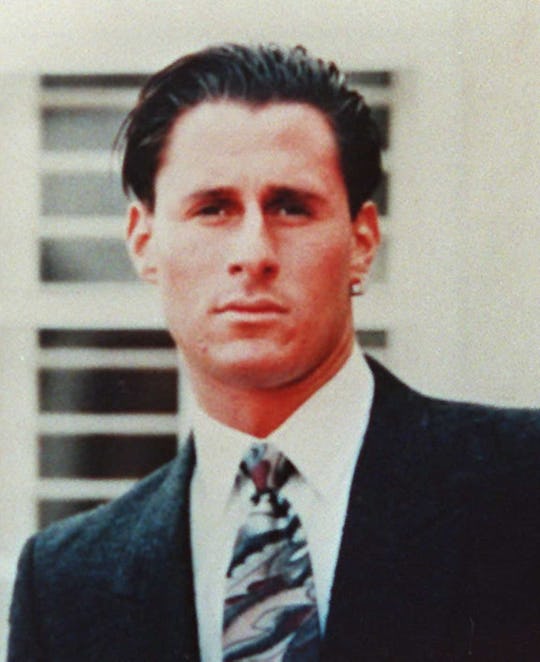 File/Getty Images
Who Was Ron Goldman? 'American Crime Story' Won't Really Get Into The Victim's Life
American Crime Story is the new FX miniseries that documents the trial of O.J. Simpson and the murder of Nicole Brown and Ron Goldman. Most people know all about O.J. and his ex-wife, but her date that night is lesser well known. So who is Ron Goldman anyway? He was just an acquaintance of Nicole's, working as a waiter and actor in Los Angeles when he knew her. At the time, Goldman had only one acting credit to his name: he had appeared on a game show called Studs. It was the nineties.
Although O.J. Simpson was found not guilty for the murder of Nicole Brown, he was later found liable in a civil trial for the death of Goldman. Goldman's parents brought suit against Simpson in 1997 and were eventually awarded damages, according to the New York Times.
But Goldman was really just a normal guy, working at a restaurant in L.A. when he was murdered. He actually didn't even know Nicole Brown all that well. He had waited on her table and struck up a friendship. He was walking up her driveway when he was murdered.
Goldman's family is not behind the new mini series. According to Entertainment Tonight, the family sat down with Dr. Phil for an exclusive interview with him that will air on February 1, before the premiere of the new series. Dr. Phil spoke to ET about the interview and says that the family "is very upset."
They are also worried that the show won't give viewers the whole story about what really happened. Fred Goldman, the victim's father, told Dr. Phil that there's "a whole new generation who never saw this take place and is now going to see this series and assume that everything in this series is fact," according to Today. He says that it's "very troubling" to know that people won't get to know his son through the series.
And he is probably right. The series will focus on the investigation and the trial of O.J. Simpson more than dealing with the victims' backstory. In fact, Ron Goldman isn't even on the cast list, according to the mini-series' IMBD page. Cuba Gooding Jr., who will play Simpson in the series has tried to reach out to the victims' families. Gooding told E! that he had good intentions in taking the role.
"I don't pretend to try to understand what any of this means to either the Goldmans or the Browns," he said."Hopefully I brought some truth to it and that will help in the process of understanding the circus that was this time in America."
If you aren't old enough to remember the O.J. Simpson trial, FX's miniseries might be the best recap of events. But if you want to know more about Ron Goldman and his life, it probably won't be the best source.
Image: Getty Images