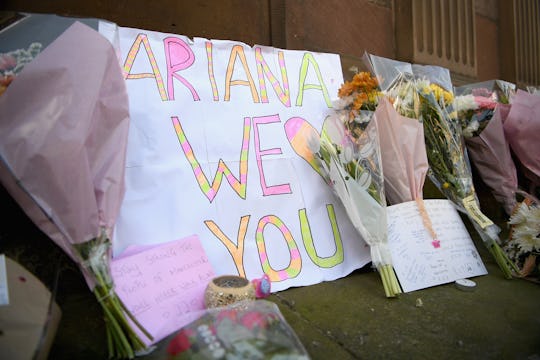 Jeff J Mitchell/Getty Images News/Getty Images
Saffie Rose Roussos, 8 Years Old, Died In Manchester
On Monday night, following a concert for singer Ariana Grande, a bomb went off at the Manchester Arena in Manchester, England. It is believed that the attack was a suicide bombing, and 22 people are dead in the aftermath. One of the victims was an 8-year-old girl named Saffie Rose Roussos. As the country and the world tries to put together exactly what happened, people are mourning and remembering the lives lost in the attack. Who was Saffie Rose Roussos, the 8-year-old Manchester victim, and what do we know about her life, cut so short in this heinous attack?
The Sunday and Daily Express reported that Saffie Rose Roussos was at Ariana Grande's concert with her mother, Lisa, and her sister Ashleee when the bomber struck just outside the arena. Following the attack, her family had been desperately trying to find the little girl, but Lancashire County Council have since confirmed Roussos was killed in the Manchester Arena tragedy.
The Guardian reported that 12 children under the age of 16 were among the 59 victims taken to hospitals in the city, so Roussos was far from the only child affected in the attack. It's still unclear how many of the individuals who died in the bombing were children.
So far, Roussos appears to be the youngest named victim of the attack. The BBC reported that she was a student at Tarleton Primary School, in Lancashire, and that her head teacher, Chris Upton, said she was, "simply a beautiful little girl in every aspect of the word" and was "loved by everyone."
According to The Telegraph, in a statement released Tuesday, Upton went on to say:
News of Saffie's death in this appalling attack has come as a tremendous shock to all of us and I would like to send our deepest condolences to all of her family and friends. The thought that anyone could go out to a concert and not come home is heartbreaking.
The Telegraph reported that Roussos' parents are "believed to run a fish and chip shop in Leyland," and that her mother and sister are being treated for shrapnel injuries in separate hospitals. Before it was confirmed that Roussos had died, friends and well-meaning strangers posted on social media trying to find the little girl after the attack.
According to that outlet, Hannah Melling wrote on Facebook:
My friend Lisa and her daughters Ashlee and Saffie were at the concert last night.
Saffie-Rose, 8 years old is still missing. Her mum Lisa and sister Ash are in hospital with shrapnel injuries which are not life threatening but Saffie is still missing. Ashlee's in Bolton but Lisa is in a different one.
Please could you share this post and help find her...please contact me with ANY INFORMATION.
And Diana Hopkins reportedly wrote: "Saffie Rose Roussos she's 8 and still missing her sister Ash is being treated in Bolton her mum Lisa is also being treated for shrapnel wounds...Mum and sister are ok just need to find Saffie please help please share don't contact me please contact the police who can get to Lisa quicker."
And posts on Twitter seeking information on people who are still missing continue to make the rounds. These posts included Roussos on Monday and Tuesday, until Roussos' death was confirmed.
The Guardian reported that Roussos is the second person to be confirmed dead. The first was Georgina Bethany Callander, who was 18, according to The Telegraph. Unfortunately, more names will likely be released as more victims are identified.
Roussos' life may have been cut short by this attack, but it's clear she was very loved by her family, friends, and teachers. The world came together on social media to try to find her, and will hopefully come together now to remember and celebrate her life as well.