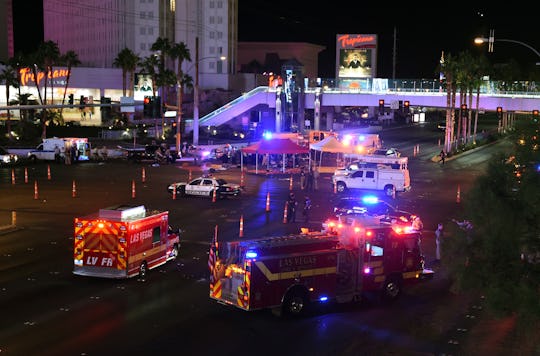 Ethan Miller/Getty Images News/Getty Images
Sonny Melton Is One Of The First Las Vegas Victims Identified
More than 20,000 country music fans gathered at the Mandalay Bay hotel in Las Vegas Sunday for the Harvest Music Festival, but the night turned deadly when a man opened fire on the crowd, killing more than 50 people and leaving hundreds wounded. Who was Sonny Melton? The Tennessee man has become the first victim to be publicly identified in what is now the deadliest mass shooting in United States history, according to ABC 6 News.
Update: As of 6 p.m. ET on Monday, Oct. 2, CNN reports that 59 people have died and over 500 people were injured. Authorities say the suspect had 18 additional firearms, explosives and several thousand rounds of ammo at his home in Mesquite, NV.
Twenty-nine-year-old Melton, a registered nurse at Jackson-Madison County General Hospital, was attending the concert with his wife, Dr. Heather Gulish Melton, when shots were fired at the crowd, according to The Jackson Sun. In a statement, Gulish Melton told Fox News that she was "in complete disbelief and despair," and added, "Sonny was the most kind-hearted, loving man I have ever met. He saved my life and lost his." In a Facebook post, which now appears unavailable, The Jackson Sun noted that Gulish Melton called her husband her "true love and knight in shining armor," and wrote, "I appreciate the prayers but I just need some time."
In a statement Monday, Tennessee Gov. Bill Haslam offered his condolences to Melton's family. He said,
I am praying for the many people affected by the senseless act of violence in Las Vegas. In particular, Crissy and I extend our condolences and prayers to the family of Sonny Melton from West Tennessee who was among those killed in this tragedy.
Melton's friend Jeremy Butler confirmed his death to The Paris Post-Intelligencer, and told the outlet that Melton had actually been shielding his wife from the gunfire when he was fatally struck. Butler said the couple had gotten married about a year ago, and were in the process of building a home together in Big Sandy, Tennessee.
Following the news of Melton's death, his alma mater, Union University, offered its condolences on its Facebook page, and quoted one of Melton's former professors, Christy Davis, who said, "You know how when you met someone and you just know that they're good and kind? That was Sonny. He just had a sweet, kind spirit about him."
According to the post, Melton earned a Bachelor of Science in Nursing Accelerated degree in 2015, and had been working as an emergency department nurse.
Las Vegas Sheriff Joe Lombardo said that police believe the suspected gunman had targeted victims in the crowd from his room on the 32nd floor of the Mandalay Bay hotel, where he was thought to have at least eight guns, according to The Independent. In a press briefing Monday, Clark County District Attorney Steve Wolfson said that the shooter used a "weapon of mass destruction" to carry out the attack:
This was a classic WMD. This was a weapon and a man of mass destruction. This doesn't involve politics. All of us are Nevadans. We're working to get through this.
In a White House address Monday, President Donald Trump called the Las Vegas shooting "an act of pure evil," according to CNN, and offered words of hope for Americans grappling with the latest act of horrific violence. Trump said,
In times such as these I know we are searching for some kind of meaning in the chaos, some kind of light in the darkness. The answers do not come easy. But we can take solace knowing that even the darkest space can be brightened by a single light, and even the most terrible despair can be illuminated by a single ray of hope.
In addition to being the deadliest mass shooting in the country's history — a title previous held by the June 2016 mass shooting at the Pulse nightclub in Orlando — the Las Vegas attack has also become the worst domestic act of violence of Trump's presidency, according to CNN.