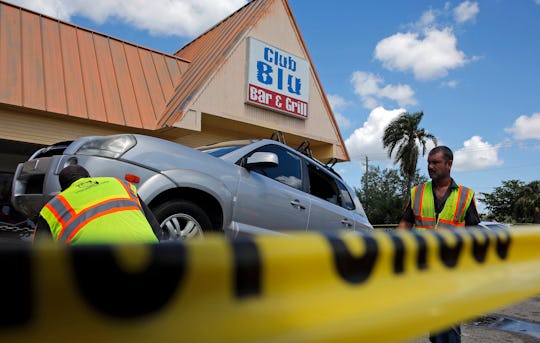 Mike Carlson/Getty Images News/Getty Images
Who Was Ste'fan Strawder? The Teen Basketball Player Had A Promising Future
Another mass shooting has occurred at a Florida nightclub. Fort Meyers' Club Blu was reportedly hosting an all-ages event on Sunday night that was capped off by gunfire in the parking lot as parents came to pick up their teens early Monday morning. Two victims have died, including Lehigh's Ste'fan Strawder. It's still unclear exactly how many were injured, but some reports list as many as 17. Strawder's mother, Stephanie White, told the local News-Press that her son was shot in the right shoulder as he exited the club, and was later pronounced dead at at Lee Memorial Hospital. He was said to have pushed his cousin out of the way before being shot. His sister, Sharrelle, was shot in the leg, and was treated and released from the hospital.
Strawder was hailed as "the Fort Myers Stephen Curry," according to Time, due to his talent on the basketball court. "The kids would always be like, 'I want to be able to shoot just like Stef'an,'" said his cousin, Napoleon Rayner. In addition to playing for Lehigh Senior High School during the school year, the 18-year-old also played on Lee County's Florida Future travel team, and recently competed in tournaments across the country.
Multiple people who knew Strawder said that the teen "breathed" basketball. Younger players reportedly looked up to him; Florida Future director Jamie Outten told the News-Press that he'd coach the other kids, showing them all the tricks he'd learned. On Facebook, Strawder often posted about pursuing a career in basketball in order to provide for his family one day. Strawder's former coach Dawn McNew said that Florida Gulf Coast University had shown some interest in the young man.
CNN has reported that 14-year-old Sean Archilles was also killed at Club Blu, and the injured ranged in age from 12 to 27. Interim police Chief Dennis Eads said that three people are in custody, and "[w]e're still looking for others."
Gunfire on the nearby Parkway Street was thought to be related to the incident. The News-Press reported that police engaged in a car chase with three suspects that ended with the driver being shot as he attempted to run over an officer. Police said that the shooting "was not an act of terrorism," and the suspects have been identified as local teens Derrick Church, Tajze Battle, and Demetrius O'Neal. The Southwest Florida Community Foundation has set up the Together Fort Myers Fund in response to the tragedy. According to the fund's website, all proceeds will "provide assistance and service to victims and families."