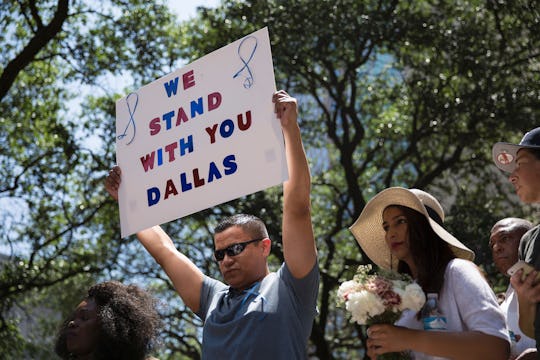 LAURA BUCKMAN/AFP/Getty Images
Who Was The Civilian Injured In The Dallas Shooting? Shetamia Taylor Was Shielding Her Son
Shetamia Taylor was just trying to attend a peaceful protest in Dallas, Texas on Thursday night when snipers opened fire, killing five police officers and injuring others. While many police officer's lives were taken, the lives of civilians were also at risk at the massive rally. When those curious this wonder who was the civilian injured in the Dallas shooting — they should know that one of those civilians injured was 37-year-old Shetamia Taylor — who was just trying to protect her young sons from harm's way.
On Friday, Dallas Mayor Mike Rawlings confirmed that five police officers were killed and seven police officers were injured in the mass shooting but two civilians were also wounded. Taylor's sister confirmed that she was one of the civilian victims (the other civilian has yet to be identified). According to the Associated Press, Taylor was attending the protest with her four sons and the way she became wounded was quite heroic. As soon as the shots were fired, Taylor threw herself over her 15-year-old son to protect him from the shots and was therefore shot in the calf. Taylor's sister told ABC News:
She jumped on top to cover him on the ground as she pushed him in between two cars in the curb. All she could think about was her three boys — where are they at.
According to Williams, Taylor has gotten separated from two of her sons in the shootings aftermath, where the two were stuck behind police barricades for some time. According to ABC News, Taylor has already undergone surgery for her injuries and is currently recovering. According to Williams, Taylor is persevering and continuing to think about others before herself:
She's not so much worried about the gun shot wound she has on her leg. We're watching the news in the hospital room, and all she can do is say 'Lord, be with those families of those police officers.' And that is what she is repeating.
On Taylor's reported Facebook page, images of racial injustices with powerful messages are posted throughout her Timeline. On Thursday she reposted a picture that informed people when and where the rally would be. Taylor's dedication to the cause she believes in, not to mention helping others, makes her a true hero. For her to bring her sons to the rally and then sacrifice her life for her sons make her actions completely admirable and noteworthy.
Taylor's son took to Twitter on Friday to address the reports about his mom, alluding that there would be more information to be released about Taylor in the next few days.
It is incredibly refreshing to know that Taylor is doing well and is healing. Hopefully more details about Taylor's story and her heroic efforts to fight for what she believes in and save her sons will emerge in the next few days.