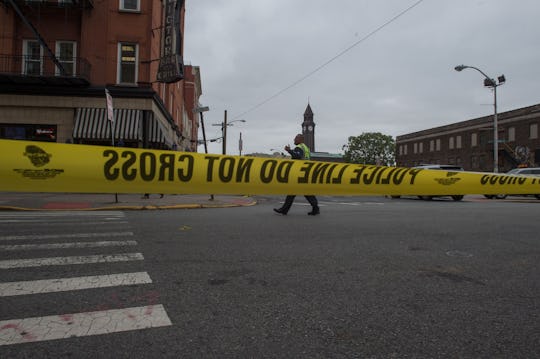 BRYAN R. SMITH/AFP/Getty Images
Who Was The Hoboken Engineer? Driving A Train Was Thomas Gallagher's Childhood Dream
Authorities investigating the Hoboken, New Jersey train crash that killed one and injured at least 108 people finally began piecing together details and releasing identities on Thursday night. One of the injured, the Hoboken train engineer who had been conducting at the time of the crash, was identified as Thomas Gallagher, a 48-year-old who had been living his childhood dream up until that point. On Thursday night, those who knew him spoke out on his behalf.
According to New Jersey Gov. Chris Christie, Gallagher himself had been injured in the accident, but was quickly released from the hospital after being treated for non-life-threatening injuries. "[It was a] tragic accident," Christie said, in a televised press conference. Authorities have stated that while "operator error" was to blame for the crash, their investigation was still in the early stages, and no exact cause could yet be pinpointed. Echoing the statements of officials at the scene, Christie said that the train had "[come] in at much too high rate of speed."
WABC in New York reported that Gallagher lived in Morris Plains and that his neighbors all spoke "very highly of him."
"Just a fine, fine family. Great next door neighbors, wonderful kids, very caring people about others," neighbor Tom Jones told the outlet. "It's just tragic, in terms of what they're going through, or what they're going to be going through. But just very nice, and when I heard it, or actually saw you come up, and heard that was the case, I could not believe it."
Jones added that it had been Gallagher's "childhood dream to become an engineer" and that he had been working in the industry for "a long time."
Earlier reports stated that Gallagher had been critically injured in the crash, and Christie in his press conference noted that he had been found unresponsive when authorities first pulled him from the train. By Thursday evening, he had been released and was cooperating with authorities in their investigation.
Gallagher reportedly lives in the Morris Plains area with his mother-in-law and his wife. The couple have two teenage daughters together. According to WABC-TV, Gallagher's wife was spotted returning home sometime on Thursday with police escort, before leaving with her daughters. The family has not yet issued a statement to the public.