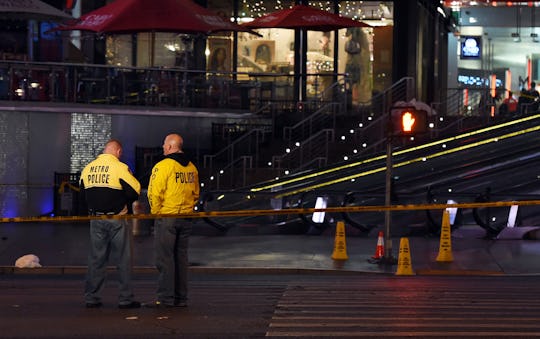 Ethan Miller/Getty
Who Was The Las Vegas Strip Driver Who Hit A Crowd Of Pedestrians? Police Say It Wasn't Terrorism
A woman in her 20s was arrested Monday after she reportedly hit dozens of pedestrians on the Las Vegas strip with her car, in what investigators are calling "a deliberate act," according to CNN. The incident occurred Sunday night, when witnesses say that the woman drove south on Las Vegas Boulevard near the Paris hotel and suddenly pulled up onto the sidewalk, "mowed down" pedestrians, then allegedly backed up and returned "at least three or four times" to hit even more people before driving off. At least one person has died, and 36 have been injured, with seven people listed in critical condition, according to BBC News.
Update: Authorities identified the woman who drove her car onto the Las Vegas Strip as 24-year-old Lakeisha N. Holloway. Prosecutors said they will charge Holloway with a single count of murder with a deadly weapon, according to CNN. Holloway did not immediately respond to Romper's request for comment. The Clark County Coroner's Office also identified the victim who died as Jessica Valenzuela, 32, of Buckeye, Ariz., according to USA Today.
The unnamed woman's motive was not yet clear Monday, but Las Vegas Metropolitan Police Department Deputy Chief Brett Zimmerman said the crash was not an act of terrorism, according to the Associated Press. The woman reportedly had a 3-year-old child in the backseat and authorities believe she recently moved to Las Vegas from Oregon, where her car was registered, according to CNN. Numerous people at the scene attempted to stop the car and get the child out, according to witnesses. CNN reported that police arrested the driver and she was undergoing tests for alcohol and other controlled substances.
The driver was reportedly driving at about 30 or 40 mph when she first hit the pedestrians, witnesses told the Associated Press. Other witness reports from CNN said they believed the the woman's action were deliberate:
"Everyone was running ... and as I was running, I saw a car up on the sidewalk coming toward us ... She didn't seem like she wanted to stop the car, she had both hands on her wheel, and she was looking straight forward."
"[She] was just massacring people," witness Justin Cochrane told the Associated Press.
Witness Crystal Orren was staying near Planet Hollywood Hotel at the time of the incident and told Sky News that she heard screaming down on the street from her room's balcony:
"It was chilling because when it happened ... I was out on the balcony and I didn't hear anything at all — there was no squeal of brakes and no sound of impact. It was just screaming and then the sirens."
The hit-and-run occurred not far from Planet Hollywood, where the Miss Universe pageant was taking place, Sky News reported. Following the incident, police shut down portions of the strip to continue the investigation.
Image: Ethan Miller/Getty Images