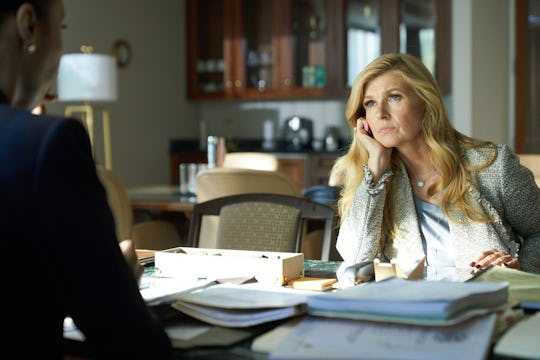 Michael Becker/Bravo
John Is Hiding Something Major On Bravo's 'Dirty John'
A promo for the first season of Dirty John more than hints at the fact that Debra Newell doesn't know her boyfriend John Meehan as well as she might think. Though there were red flags from the start, one big sign that Meehan was hiding something was the discovery of an unknown woman in Newell's house one afternoon. But who was the woman who broke into the house on Dirty John?
The Bravo series hasn't delved into the mystery woman yet, but the reveal is a pivotal moment in the podcast and article by Christopher Goffard that inspired the series. After church, Newell and Meehan returned home to find a stranger sitting in their living room, described in the LA Times as "a thin, weathered woman in her late 30s or early 40s." She had showered in the house and was dressed in Newell's clothing; she had seemingly made herself at home.
Meehan apprehended the woman and they called the police, but Newell chose not to press charges. She thought the woman might be homeless or an addict and assumed that she had found a way in through a skylight. Though she was seemingly a stranger to both of them, Newell suspected that Meehan might have known the woman.
In Dirty John's Season 1 trailer, there's a scene with a disheveled woman who is likely the fictionalized version of the real life stranger. It's difficult to deduce her identity, but she looked like the patient John had been dealing with throughout "Approachable Dreams," who appeared to be growing addicted to pain meds after John's interference. But if the mystery woman is John's patient, that wouldn't match the real story.
The incident led to Newell and Meehan installing a security system with cameras. Though Newell didn't break up with him, she had growing suspicions of her own about Meehan; she even feared he might be watching her through their security cameras. Her two daughters Jacquelyn and Terra had a bad feeling about Meehan from the start, and hired a private investigator to dig into his past.
The LA Times article about Meehen and Newell doesn't reveal if the seemingly-homeless woman ever ended up connected to Meehan. But it was the beginning of an avalanche of information about Meehan's previous interactions with women. Several had restraining orders against him, while others accused him of blackmail or assault. A website called Datingpsychos.com apparently contained more than a few warnings about him.
There was one woman who it appears became involved with Meehan after being treated by him. She had been in the hospital for brain surgery and he was her anesthesiologist. During their relationship, he allegedly tried to get money from her and when she didn't give it to him, he apparently threatened her and sent "intimate photos" of her to her family. There was such an emphasis on one of John's patients in Episode 1 that it's possible the show is conflating several real life women into a fictionalized one.
If the woman who breaks in on the show turns out to be John's patient, then perhaps the series is making the mysterious woman into someone more recognizable. In reality her identity is still uncertain, but turning her into a character the audience has seen before allows them to open the door to John's past in a way that might be a little clearer for viewers. In real life, there are plenty of unexplained occurrences that never have neat endings, but narratives often have to make things a little tidier.
That might not be what Dirty John ultimately chooses to do, but it is a possibility.
This first-time mom wants to have a home birth, but is she ready? Watch how a doula supports a military mom who's determined to have a home birth in Episode One of Romper's Doula Diaries, Season Two, below. Visit Bustle Digital Group's YouTube page for the next three episodes, launching every Monday starting November 26.