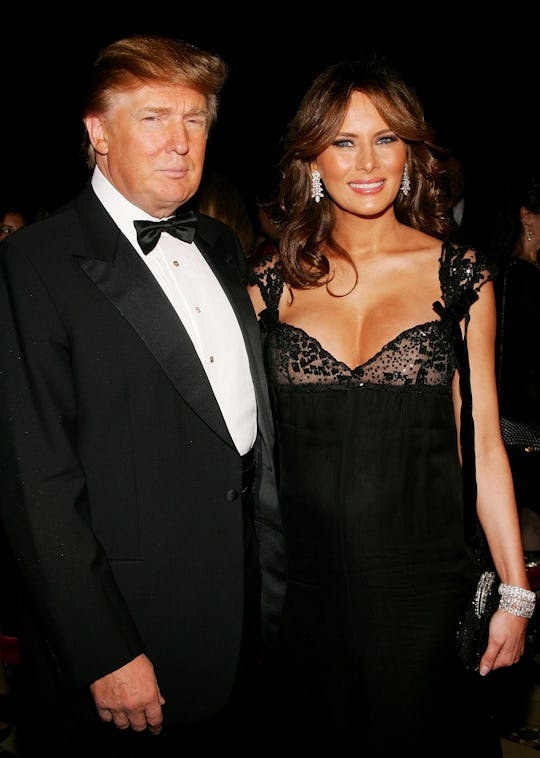 Evan Agostini/Getty Images Entertainment/Getty Images
Who Was Trump Married To During The 'Access Hollywood' Interview? His Third Wife Is Angry
As everyone with access to the outside world is aware of at this point, Republican presidential nominee Donald Trump was recently busted for saying some truly gross things to Billy Bush while – whoops! – wearing a live microphone in 2005. Though his remarks were reprehensible in their own right, what's worse is that Trump was married during the Access Hollywood interview, and his wife, Melania, was three months pregnant at the time. Trump has since apologized for the comments in the video, but Trump's campaign has not responded to Romper's request for comment.
According to the Washington Post, which first leaked the recording, the interview was arranged to promote Trump's Days of Our Lives cameo, which aired in October 2005. The Post puts the interview date on or around Sept. 16. This would have been just eight months after Donald and Melania's Jan. 22 wedding, and a mere 11 days before the Trumps announced that they were expecting a child. Barron Trump was born March 20, 2006, so assuming he wasn't a particularly early or late baby, that would have put Mom near the end of her first trimester on the day that Dad and Bush were giggling about how easy it was for famous men to kiss women and "grab them by the p*ssy" without consent.
After wrapping up their conversation, which really covered a lot of ground (including comments about Nancy O'Dell's "phony t*ts"), Trump and Bush stepped off the tour bus, where they greeted actress Arianne Zucker, who Bush then pressured into hugging them. It's unpleasant enough to see a grown woman instructed to show physical affection to a stranger, but it's even more repugnant considering the comments they'd been making about her just moments earlier. "Melania said this was OK," Trump assured Zucker. Has anyone started a GoFundMe to provide Melania and Zucker with 100 gallons of body wash and some industrial grade steel wool yet?
On Friday, the day that the recording was published, Trump released his version of an apology: "This was locker room banter, a private conversation that took place many years ago. Bill Clinton has said far worse to me on the golf course — not even close. I apologize if anyone was offended." Please note that "Bill did it first" is the argument of a 5-year-old, and "I apologize if anyone was offended" is a passive non-apology that blames everyone but the speaker himself. He later released a video where he stated, "I said it, I was wrong, and I apologize," (better!) before bringing it back to Clinton again. He doesn't seem to realize that unproven allegations leveled against his opponent's spouse between 25 and 40 years ago have absolutely nothing to do with words he actually admitted to saying.
On Saturday, Melania released the following statement on her husband's campaign website: "The words my husband used are unacceptable and offensive to me. This does not represent the man that I know. He has the heart and mind of a leader. I hope people will accept his apology, as I have, and focus on the important issues facing our nation and the world." Once again, the focus was on the words, implying that America's collective feathers were ruffled by a swear, rather than the subject, which was condoning sexual assault. It's none of our business how their marriage works, but America does have the prerogative to reject a leader who thinks language concerning sexual assault is something to laugh about.