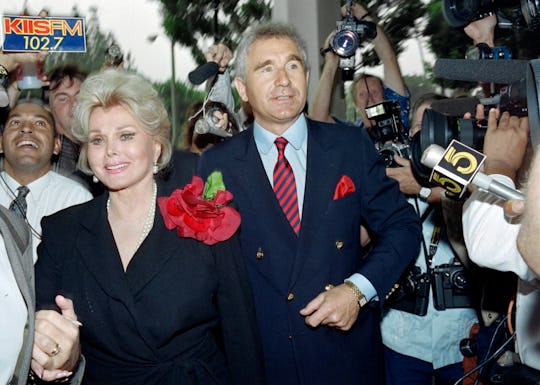 AFP/AFP/Getty Images
Who Was Zsa Zsa Gabor Married To? The Hungarian Actress Tied The Knot Several Times
O'A publicist for Hungarian-American actress Zsa Zsa Gabor on Sunday confirmed that the socialite and former beauty queen had passed away at the age of 99, according to CBSLA; TMZ, which originally broke the news, claimed that she had died of a heart attack after being on life support for several years. Gabor, who was hospitalized earlier this year for respiratory issues, leaves behind a string of ex-husbands and a highly publicized love life that was often played out unfairly in the media. The nine men to whom Gabor was married frequently found themselves in the limelight alongside her — and that limelight was not always friendly.
Of course, Gabor herself, a dazzling headline-grabber, fed on that attention, at times fanning the controversy herself and seeming to revel in it. When asked how many husbands she'd had, Gabor once famously told reporters, "You mean other than my own?"
At the time of her death, Gabor was married to her ninth husband, Frederic Prinz von Anhalt. In February, following Gabor's hospitalization, von Anhalt, who had accompanied her to UCLA Medical Center, told Reuters that Gabor was being fed through a feeding tube and was awaiting surgery, but was otherwise stubbornly and characteristically "hanging on."
"She talks a little but not very much. She is hanging on," von Anhalt said. "I hope she will hang on for a couple more years, and celebrate her 100th birthday next year. I think everything will be OK."
Gabor was previously married to eight other men, although, according to J. Randy Taraborrelli's book The Hiltons: The True Story of an American Dynasty, Gabor was technically married eight times overall, not nine, as her union with Felipe de Alba in April 1983 was annulled 24 hours after the ceremony, given that Gabor was still technically married to husband number seven, Michael O'Hara.
In addition to her marriages to von Anhalt (m. 1986), divorce attorney O'Hara (m. 1976-1983), and character actor de Alba (m. April 13-14, 1983), Gabor was also married to Turkish politician, Burhan Asaf Belge (m. 1937-1941); famed hotelier Conrad Hilton (m. 1942-1947), with whom Gabor had one child, Francesca, from what Gabor described her autobiography as "an act ... described as rape," according to Vanity Fair (The Hiltons, for their part, appear to have chosen not to respond publicly to the rape allegation); English actor, author, and musician George Sanders (m. 1949-1954); investment banker and attorney Herbert Hutner (m. 1962-1966); Joshua S. Cosden, Jr. (m. 1966-1967); and designer and inventor Jack Ryan (m. 1976-1983).
Though some claimed Gabor's final husband, von Anhalt, was allegedly "keeping her prisoner," according to a 2007 Vanity Fair profile, refusing to allow Gabor to see friends or give interviews, contributing editor Leslie Bennetts at the time wrote that "the issues seem simpler, or at least as simple as anything involving Zsa Zsa and her consort could ever be—which is to say, not very."
In February, von Anhalt told Entertainment Tonight that he hoped then-hospitalized Gabor would live to see her 100th birthday, so that she could celebrate it in fitting style. "We are going to make a big party," he enthused. "I mean, how many times do you get to a 100? So, we are going to have a big party and we are going to celebrate it. Hopefully she is better, she is healthier. I hope we can celebrate her 100th birthday in our house, and she lives on like her mother did."