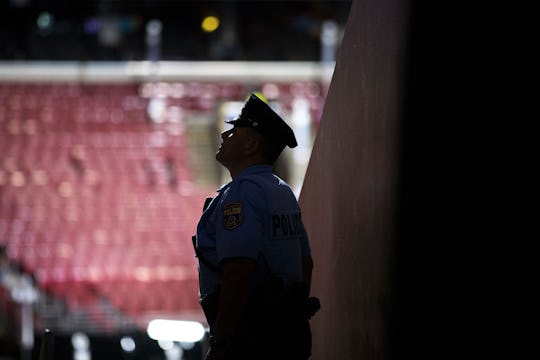 Drew Angerer/Getty Images News/Getty Images
Who Were The 3 Slain Officers Mentioned At The DNC? Their Lives Were Cut Way Too Short
On the final night of the Democratic National Convention in Philadelphia, Pennsylvania, three women and one father took the stage to share their painful stories of losing their loved ones — police officers — to senseless violence while wearing the badge. The move comes after the national Fraternal Order of Police criticized the DNC for only inviting Mothers of the Movement to speak — but not the widows of slain police officers. Who were the three slain officers mentioned at the DNC? Their tragic stories span communities across the nation.
First to the stage was Wayne Walker, mother of Philadelphia police officer Moses Walker, Jr. who was brutally gunned down while off duty by robbers in 2012. After his murder, his mother discovered a pile of Christmas presents her son had bought for friends and family — in August. "Moses didn't live long enough to give all the gifts he had left to give," Walker said.
Walker was followed by Barbara and Wayne Owens, parents of Cleveland police officer Derek Owens, who was killed in the line of duty in 2008. His mother Barbara said, "We never want the sacrifice of Derek and all the other fallen officers to ever be forgotten."
Finally, Jennifer Loudon, widow of slain Chicago police officer Thor Soderberg, took the stage. Soderberg was killed in the line of duty in 2015 — with his own gun, no less. She shared a moving story of how her husband responded to a call about a boy who stole a belt, because he only had a rope to hold up his pants. "Thor negotiated, and the charges were dropped," Loudon said, before adding: "He also paid for the belt." Watch their emotional stories below:
It was a moving moment at the DNC — and a necessary and important tribute to fallen officers across America.