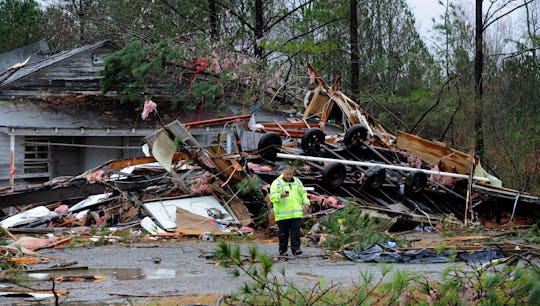 Eric Schultz/Getty Images News/Getty Images
Who Were The Alabama Tornado Victims? The Storm Ripped Through The Southern State
After a deadly storm on Wednesday, officials confirmed that were at least five victims in the wake of the devastating Alabama tornado and a nearby spin-off storm. The main storm killed three people in Alabama and the spin-off storm took two lives in Tennessee. In Alabama, there were two others injured when the tornado hit Jackson County.
The storm hit an area within a 1.5 mile radius but officials still aren't sure exactly how bad the extent of the damage was. "We can't tell what kind of damage we've got (due to the dark)," Jackson County Sheriff Chuck Phillips told CNN. Between Tuesday and Wednesday morning, a total of 12 tornados were confirmed in Tennessee, Alabama, Mississippi, and Louisiana.
The three dead were in the same mobile home in Rosalie, Alabama. According to Jackson County Chief Deputy Rocky Harnen, one other person in the mobile home was critically injured. Their identities weren't immediately released. Harnen also said that among other injuries, there were about 20 structures in Jackson County that were destroyed.
In neighboring DeKalb County, it's possible the same tornado hit a daycare center where seven people were injured, including three children. The center was closed, but the people had left their mobile home nearby for the more stable shelter of the building, DeKalb County Emergency Management director Anthony Clifton said.
In Colbert County, there were emergency responders still assessing the damage. Colbert Heights Fire Chief EJ Lindblom told WAAY TV that they had a "community member" lose their house. "But nobody got seriously hurt and nobody has lost any life so we got that to be thankful for," Lindblom said.
In McKinn County, Tennessee, there were 23 people injured and over 30 buildings destroyed. The two dead in the state were a husband and wife killed in a structure in nearby Polk County. According to NBC News, in Athens, which was one of the hardest hit areas, a woman gave birth during the storm. Her home was destroyed in the tornado and she was taken to the hospital, but both mother and baby are doing just fine. "So we had 20 injured and one brand new life," McMinn County Mayor John Gentry said in a press conference.
Tennessee is also still dealing with the aftermath of wildfires in the state last week. There are currently thousands of homes without power and cell phone service is spotty. Gentry has asked residents to reduce cell phone usage so signals can get through.
Hopefully the weather will give both states a break soon so that residents can start to rebuild.