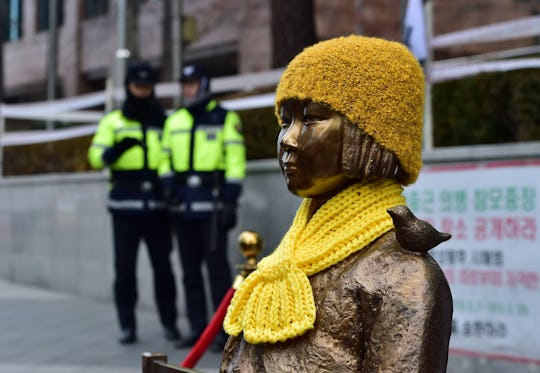 Who Were The 'Comfort Women' of World War II? Japan Has Finally Apologized To South Korea In A Deal Decades Overdue
Some 70 years after the end of World War II, South Korea and Japan have finally settled a sexual slavery issue that has divided the countries for nearly three generations. Over the years, the two countries had moved from outright denial of "comfort women," sex slaves used by the Japanese military before and during World War II, towards a kind of reluctant admission. However, not all the survivors are applauding the deal. Before we get to that, many people may be wondering, who were the "Comfort Women" of World War II? Before the agreement, the story of thousands of young women forced into prostitution by the Japanese military might have simply fallen out of history.
From 1910 to 1945, Japan occupied the Korean peninsula and enforced policies meant to subjugate and control Korean citizens. The crimes Japanese leaders committed in Korea during the war included forcing women to work in military brothels — an estimated 200,000 women — from the late 1930s to mid 1940s, according to BBC News. Because Korean women were already under Japanese control, most comfort women came from that country, though some were kidnapped from China, Taiwan, the Philippines, and Indonesia. Many of the women died during their enslavement and of course others died over the years that followed. Today, there are just 46 survivors in Korea, BBC News reports.
The women, now in their 80s and 90s, offer brutal accounts of kidnapping, rape, and inhumane treatment at the hands of the Japanese military. Speaking to the BBC News in 2013, survivor Lee Ok-seon said she was just 14 years old when she was abducted by Japanese soldiers and taken to China to work in a "comfort station" to service Japanese troops:
I had to start work as a housekeeper for another family at a young age. It was at that time I was out on the street one day… that's how I got kidnapped. By the time we arrived I realised we had crossed the border into China. I was sent to a place where there were already several comfort women. I wonder why they called us comfort women. We didn't go by our own accord, we were kidnapped. I was forced to have sex with many men each day.
Japanese officials have acknowledged responsibility for wartime sex slaves several times in the years since the war ended. But as the number of survivors and direct eyewitness accounts dwindle, a younger generation of Japanese has begun to question evidence of coercion and kidnapping of comfort women, instead implying that the women prostituted themselves to Japanese soldiers.
When asked about the issue of Korean comfort women, Japanese politician Toshio Tamogochi told BCC News it was a fabrication:
If this is true, how many soldiers had to be mobilised to forcibly drag those women away? And those Korean men were just watching their women taken away by force? Were Korean men all cowards?
After decades of disagreement — even denial — over the issue, the two countries have reached an accord that will settle the matter for good: Japan will pay 1 billion yen ($8.3 million) toward victim support; in exchange, Korea will consider the agreement "irrevocably" resolved, according to BBC News. In addition, the two countries will refrain from criticizing each other in international society, CNN reported.
But survivors and advocates are criticizing the deal, arguing that none of the payments will go to those directly harmed by Japanese military. In addition, the agreement ignores concerns that Japanese history books are rewriting World War II and the scope of the country's crimes during the war. Without active acknowledgement, Ok-Seon told BBC News in 2013, it could simply be a matter of time before the truth about Korean comfort women simply dies out:
We're all very old. We're dying each year, one by one. Historically speaking the war might have stopped, but for us it's still going on, it never ended. We want the Japanese Emperor to come here, kneel before us and apologise sincerely. [But] I think the Japanese are just waiting for us to die.
While Monday's agreement represents a move forward for both countries, especially in light of upcoming trade and economic opportunities, some say it will do little to actually comfort the survivors of sexual slavery. But perhaps the agreement will mean the next generation of Japanese and Korean citizens can move forward in peace and forgiveness.
Image: JUNG YEON-JE/AFP/Getty Images