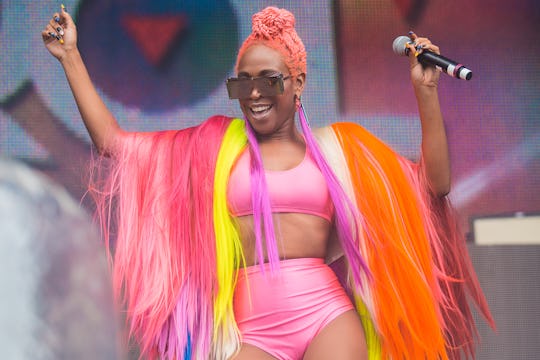 Mauricio Santana/Getty Images Entertainment/Getty Images
Who Were The Pink-Haired Rappers During Rio's Opening Ceremony? Karol Conka Stole The Show
The opening ceremony of the 2016 Summer Games took place on August 5 and the lights, sounds, and beauty of Brazil took the watching world by storm. But it was the two pink-haired rappers during Rio's opening ceremony who really stole the show tonight. Karol Conka performed at the opening ceremony, joined by a flurry of other artists, and it was to the delight of fans both in the stadium and all over the world. In a profile published on Refinery29.com, Conka said, "As a black woman living in the ghetto, I thought, I must have something interesting that other artists don't have," and her performance at the Olympics showed just how interesting Conka is.
RollingStone.com noted that her album Batuk Freak, earned her Brazil's prestigious Multishow Best New Artist award in 2013. "Boa Noite," one of the songs from the album, has more than 3 million views on YouTube. As Conka told RollingStone.com of her music:
We have excellent MCs and beat makers with a growing space to show their work. In this scenario, I situate myself in a position where I sing about joy; my protest is against sadness. I always try to sing about self-esteem and respect with festive and danceable beats…
Her performance at the opening ceremony was all about celebrating self-esteem and respect. It was, in short, one of the many highlights of the night. But she wasn't alone. Conka was joined on stage by the amazing MC Soffia. According to the Rio Olympics website, MC Soffia is just 12 years old and has taken "social networks by storm with her music videos that speak out against racism."
According to TheGuardian.com, MC Soffia is already six years into her career as a rapper. Her songs, which empower young African-Brazilian women, focus on Brazil's history of slavery and racial division. Beyond that, TheGuardian.com noted that her lyrics "challenge the way black people are represented." Talking with the DailyMail.com, Soffia handed out what is, quite possibly, the most important advice anyone will ever receive:
I don't know exactly what will happen afterwards. But I really hope I'll be able to do the same things I do today, like play on the street, ride my bike in the park, go and play basketball with my friends. I want to be a lot of things when I grow up, a football player, a basketball player, a doctor, a cardiologist, an Olympic swimmer, a dancer, a model, an actress and a singer. I think it's really unfair that you can't do everything you want to do in your life. So I'll have to settle with being a model, actress and singer. Do you think that after this I can say I'm a singer already?
Here's what people had to say about Conka and Soffia's stellar showing:
Now, if they could just come back on stage and perform all night — that'd be great.