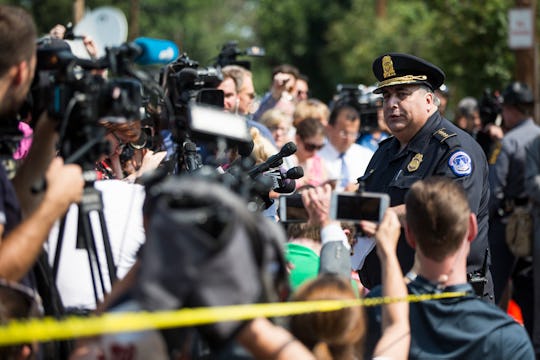 Zach Gibson/Getty Images News/Getty Images
These Are The Two Officers Wounded In The Alexandria Shooting
Wednesday got off to a bit of a rocky start. As most Americans are aware, a lone gunman opened fire in Alexandria, Virginia Wednesday morning at a practice session for an upcoming congressional baseball game. As most rank and file members of Congress don't have a security detail, the situation was particularly dangerous. Luckily, Rep. Steve Scalise, who is the majority whip in the House of Representatives, was present, so extra security was on the scene and able to respond to the shots. At least two members of Congress were hurt and one congressional staffer was also injured, but who were the police officers injured in the Alexandria shooting?
According to House Speaker Paul Ryan's office, the officers who were on the scene at the time of the shooting were Special Agent David Bailey and Special Agent Crystal Griner of the Capitol Police force. While police, as well as the FBI, are still investigating the scene, Capitol Police Chief Matthew Verderosa issued a statement Wednesday regarding both Bailey's and Griner's conditions, saying both officers were wounded, but stable. Neither appear to have sustained any life-threatening injuries from the shooting.
According to Rep. Mo Brooks, who was one of the congressmen present at the shooting and provided interviews on the scene, it took a few seconds for him to realize that shots were being fired. When he saw Scalise go down, he realized what was happening.
After rushing to a dugout for cover, Brooks described to The Washington Post the actions of the Capitol Police officers. As The Post wrote,
Then he saw a man with a gun appear above him and feared it was a second shooter. Instead it was a Capitol Police officer shooting back. He and another officer moved toward the shooter, who ran toward home plate and was shot down. "They were both wounded," he said.
Sen. Jeff Flake, who was also at the baseball field, described the scene as well, saying he didn't know if the officer was there to protect him, or hurt him, at first. "And I kept yelling: 'Are you friendly? Are you friendly?'" he said. "And he yelled back: 'Yes.' And then I could see him come around the dugout, but he was wounded. I'm not sure when he got shot. But he had a wound by his ankle."
Flake also described seeing a female officer present, who was also wounded and later airlifted from the scene. According to almost everyone on the scene, both officers were injured by the gunman, but continued to do their jobs.
Frightening as it may be, if it weren't for Agents Bailey and Griner, the events of the Alexandria shooting could have been a lot more tragic than they were.