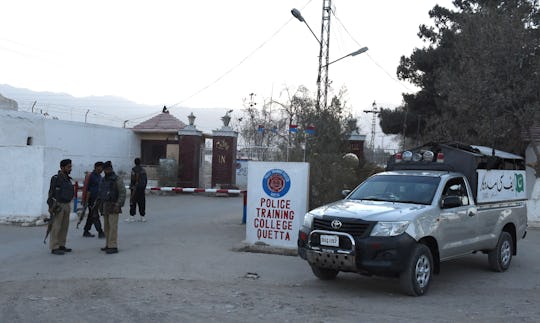 BANARAS KHAN/AFP/Getty Images
Who Were The Victims Of The Quetta Police Academy Attack? The Majority Were Young Cadets
On Monday evening, three heavily armed suicide attackers entered a police training academy in Quetta, Pakistan, killing the two guards at the gate before using assault rifles to fire into the sleeping quarters where hundreds of police cadets slept. Two of the men detonated their suicide vests, while the third was shot dead before he could set his off, according to The Guardian. The attack left at least 61 dead and over 110 injured, sending shock waves throughout Pakistan. As the country works through its tragedy, many are paying homage to the victims of the Quetta police academy attack.
Both ISIS and the Pakistani Taliban have claimed responsibility for the tragedy, although Pakistani authorities said Tuesday that a branch of the Lashkar-e-Jhangvi, a Sunni militant group, was behind the attack. As the violence-prone city increases security, the country has called for blood donations for the injured and begun to bury the academy attack's victims.
The majority of the victims were cadets, according to The New York Times, and many were between 15 to 25 years old. Asif Murad, a 19-year-old cadet, was among the 61 killed during the attack, and he had only joined the forces in March, two years after his father — a police officer — had been killed in the line of duty. "We knew this is not a safe job but what else should we have done?" Murad's 14-year-old brother, Danish, told The Guardian. Murad had been training to be an officer in Balochistan, which is the poorest province in Pakistan and home to both violent separatists and militant Islamist groups. "We strive hard," Danish said, "but can barely afford two meals a day."
There have been no lists publicized naming the victims so far, but the country has been mourning the victims throughout the week, and survivors of the attack have described the night they lost their fellow cadets. "They ... knocked at the locked rooms and told the cadets that they were from the army, and when they opened the doors, they fired at them," 22-year-old cadet Hikmatullah said, according to the BBC.
Peer Jan Naeem, 23, told The Guardian:
They were carrying Kalashnikovs and firing blindly and throwing hand grenades. No one was there to help us so we fell to the ground and hid beneath our beds.
This week, the country has gone into a period of mourning. Pakistan's army chief visited injured cadets in the hospital, and attended an official funeral for those who had passed away, their coffins covered in white. The province's chief minister, Sanaullah Zehri, called for three days of mourning throughout the province. Hopefully, those injured will make full recoveries, and the country can slowly begin to heal after this latest, heart-breaking attack on its youth.