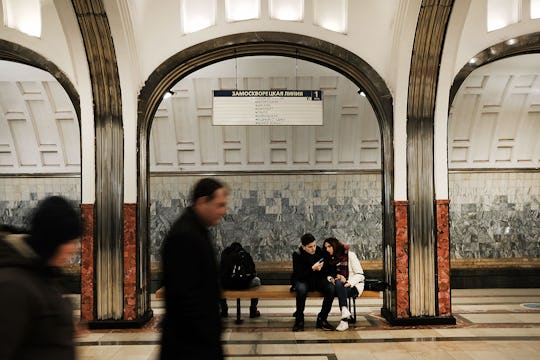 Spencer Platt/Getty Images News/Getty Images
The St. Petersburg Explosion Resulted In Many Losses
On Monday morning, it was announced that an explosion occurred on the metro system in St. Petersburg, which has so far resulted in the deaths of 10 people. So who were the victims of the St. Petersburg metro explosion? As of now, the names of the victims have yet to be released and it's still unknown what exactly caused the explosion in the first place, though, Russian President Vladimir Putin has stated that all causes to the incident, including terrorism, are currently being investigated at this time.
"The reasons for the explosion are unknown, so it's too early to talk about it. The investigation will show what happened," Putin stated during a meeting with Belarus President Alexander Lukashenko, according to CNN. "Naturally, we always consider all options -- both domestic and criminal, primarily incidents of a terrorist nature." The explosion is said to have taken place on a subway car at the Sennaya Ploshchad station.
BBC reports that at least 50 people have been injured, including children, and that the entire underground system in St. Petersburg has been shut down for the time being while investigations continue to be underway. Metro officials will also supposedly be upping security measures at the metro from now on as a result of this tragic incident as well.
But as the news and details of what happened continue to unfold, many have already taken to social media to send out prayers and messages of love to the people of St. Petersburg. In fact, a #PrayForRussia hashtag has already started to trend. It's a small gesture and doesn't detract from all the heartbreak, but it is somewhat comforting and uplifting to see everyone come together when tragedy strikes.
The device was filled with shrapnel and according to The Telegraph, multiple state news agencies in Russia report that another undetonated device has been found in the Vosstanaya Square station, though police officials have yet to confirm is this is the case.
The number of casualties and those injured as sure to increase as the day goes on, so be sure to check back for updates throughout the day. But our thoughts go out to the victims of the St. Petersburg explosions and hopefully, if this does prove to be the actions of a terrorist attack, the perpetrators will be apprehended as soon as possible.
This is a developing story and will be updated as soon as more information becomes available.