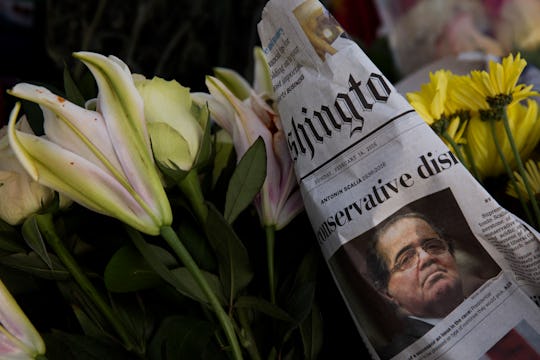 Drew Angerer/Getty Images News/Getty Images
Who Will Attend Justice Scalia's Funeral? The List Generated Another Storm Of Controversy
Details about the memorial and funeral services for late Supreme Court Justice Antonin Scalia have been announced and there has already been deep controversy surrounding who will attend Scalia's funeral. Scalia, arguably the most influential conservative jurist in a generation, was found dead on Saturday at a luxury ranch in west Texas. A devout Catholic, he will be laid to rest at the Basilica of the National Shrine of the Immaculate Conception in Washington D.C., according to NBC News. Scalia's funeral is open to family and friends, according to the New York Times, and will certainly attract a who's who list of D.C.'s top officials.
But, as plans for Scalia's funeral began to surface late this week, announcements around who would — and who would not — attend the services generated a second storm in the already tense atmosphere surrounding Scalia's death. NBC News reported that President Barack Obama will not be among those attending the services on Saturday. Instead, White House press secretary Josh Earnest confirmed that Obama and First Lady Michelle Obama planned to pay their respects to Scalia while his body lies in repose in the Great Hall of the Supreme Court building. Earnest declined to say why Obama had chosen to skip the services, but some Obama critics have interpreted the move as a snub ahead of what is predicted to be a fierce battle to install Scalia's replacement on the bench.
Even Obama's fiercest supporters seemed puzzled by his decision, according to Politico. In a tweet responding to a headline about Obama's plans, former administration official Steve Rattner wrote: "If we want to reduce partisanship, we can start by honoring great public servants who we disagree with." Fox News host Sean Hannity called the decision "the latest in a string of snubs" against "a number of high-profile conservatives" including former British Prime Minister Margaret Thatcher and Navy SEAL sniper Chris Kyle.
While members of Scalia's family haven't responded publicly about Obama's plan, Politico reported that those close to the justice said they understood the decision. "I wouldn't have expected President Obama to attend the funeral Mass, and I see no reason to fault him for not attending," said Ed Whelan, a former Scalia clerk who now heads the Ethics and Public Policy Center, according to Politico. "The ceremony at the Supreme Court seems the most apt opportunity for the president to pay his respects, but he obviously might have severe competing demands on his time."
Still, the White House was able to confirm that another top political leader would be attending Scalia's funeral services in Obama's absence. Josh Earnest said that Vice President Joe Biden and his wife, Jill Biden, will attend the services at the Basilica, according to the Times.
For now, Justice Scalia's chair and his place at the court's bench have been draped in black crepe, a tradition that dates to the 19th century as a way of honoring justices who died while sitting on the bench, according to the Times. Flags in the plaza surrounding the court will be flown at half-staff for 30 days. The Times reported that Obama ordered flags across the country and at American outposts worldwide to fly at half-staff until Scalia's burial on Saturday.