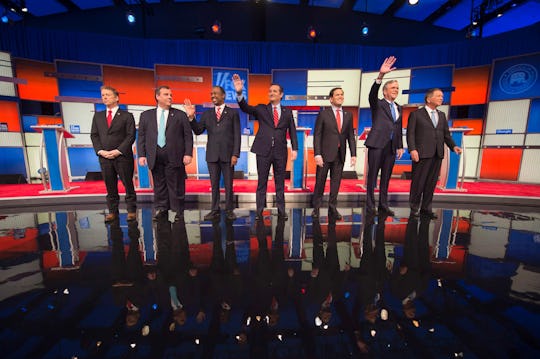 Jim Watson/Getty Images News
Who Will Be At The ABC GOP Debate? One Well-Known Candidate Was Excluded
The next (what seems like one millionth) GOP debate is slated to be broadcast on ABC Saturday, but after the debacle of Donald Trump's very dramatic Fox debate boycott, many are wondering who will be in the ABC GOP debate? It seems that Trump will be there, but a few of the other Republicans definitely won't be.
Despite pushback from many Republican party leaders, and even other presidential candidates, ABC announced it will not allow former Hewlett-Packard CEO Carly Fiorina to take the stage. Her campaign has been flagging, and with the verdict from the Iowa Caucus in, she is, essentially, being cut from the race. Though the previous debates have had a preceding "undercard" event that gave less-popular candidates an opportunity to be heard, this one will not. This debate, which will take place in New Hampshire, and just before the very influential New Hampshire primary, is key. Not even Donald Trump dared skip this one (especially after his less-than-stellar performance in Iowa). The lineup ABC announced Friday was: Donald Trump, Texas Sen. Ted Cruz, retired neurosurgeon Ben Carson, Florida Sen. Marco Rubio, former Florida Gov. Jeb Bush, New Jersey Gov. Chris Christie, and Ohio Gov. John Kasich.
Former presidential nominee Mitt Romney was very quick to speak out about Fiorina's cut, as was former House Speaker Newt Gingrich. They both took to Twitter to show their outrage and point out, rightly so, that Fiorina received more votes in Iowa than Christie and Kasich, yet they both were invited to debate.
Presidential hopefuls Cruz and Carson joined the chorus, calling for Fiorina, their opponent, to be included in the debate. CNN reported that Cruz said it would be a "mistake" for the Republican National Committee to exclude her.
Cruz took time from the campaign trail in Weare, New Hampshire, to tell reporters that "she has worked hard, won a diligent campaign." He went on to say that her presence on the stage would be a "beneficial element." If he's trying to win over some women voters with his benevolence, I'm not sure it's working.
Not one to be left out of the conversation, Carson tweeted on Thursday:
With 9 Republicans left, I call on the RNC to get rid of arbitrary requirements for debates. Americans deserve to hear from every candidate.
On Wednesday, Fiorina herself wrote an angry letter to the Republican National Committee, demanding she be allowed to debate on the main state. She called the debate process "broken." She added that "networks are making up these debate rules as they go along." With little precedence for such a packed GOP field, it's a hard point to refute. What is hard to refute is her terrible numbers at the Iowa Caucus, the likes of which led Kentucky Sen. Rand Paul, former Pennsylvania Sen. Rick Santorum and former Arkansas Gov. Mike Huckabee to end their bids for the presidency. Fiorina, apparently, doesn't give up so easy.