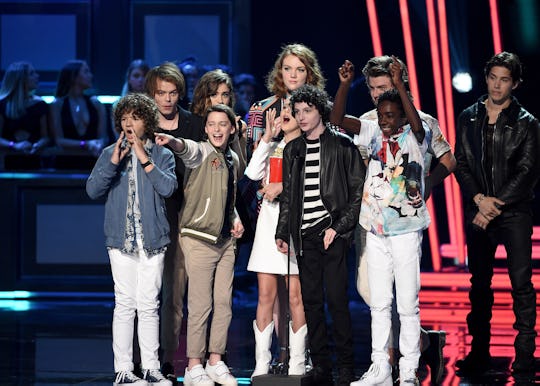 Kevork Djansezian/Getty Images Entertainment/Getty Images
MTV Is Rolling Out The Red Carpet For A-List Stars At The Movie & TV Awards
When it comes to bringing together the magic of music and the movies, no one does it better than MTV. The MTV Movie and TV Awards are just around the corner, and fans can't wait to see all their favorite celebrities come together for a night that is sure to be hella fun. Some of the best films and TV shows of the year have been nominated, so exactly who will be at the MTV Movie and TV Awards, and what other excitement can you expect to see?
Lots of great stuff has been nominated, and online fan voting is what will determine the winners, so there's no guarantee on which nominees will be in attendance. However, according to MTV, Chris Pratt is being honored with a special award, so he will likely be there to accept it. Pratt is being given this year's Generation Award, which MTV describes as an award that "celebrates beloved actors whose diverse contributions to both film and television have turned them into household names in the industry." I'm sure he'll be there to receive the honor, but it will also be a great opportunity for him to plug his new movie, Jurassic World: Fallen Kingdom, which opens on June 22.
The Emmy Award-winning Master of None writer and actress, Lena Waithe, will also be honored, so she will likely be there as well. She is receiving the MTV Trailblazer Award for her groundbreaking work in film and TV. In a statement, the general manager of MTV, Logo, and VH1, Amy Doyle said that, "Lena is shaking up Hollywood and breaking cultural boundaries through her innovative and authentic storytelling. Her unwavering passion for equality and inclusion make her the perfect recipient for this year's Trailblazer Award."
Along with Pratt, you can expect to see tons of stars from your favorite movies and shows. Riverdale has been nominated for Best Show, and in a tweet MTV hinted that Lili Reinhart and Camila Mendes might be attending. Gal Gadot is nominated for Best Fight and Best Hero, and if she wins Best Hero, she'll be the first female superhero to win the award. While TMZ reported that she was spotted in Virginia shooting the sequel to Wonder Woman with Chris Pine earlier this week, the possibility of winning this award would be enough of a reason for her to make it to the ceremony in California.
Aside from the A-list nominees, there are some huge celebrities that are confirmed to attend. Girls Trip actress and comedian, Tiffany Haddish, is set to host, and MTV revealed that the list of presenters includes Michael B. Jordan, Seth Rogen, Mila Kunis, Kristen Bell, Zendaya, and Gina Rodriguez. One Twitter fan posted a video of the MTV Movie and TV Awards venue this week, and it shows that Best Villain nominee Michael B. Jordan will be joined by two more stars from Black Panther, Best Performance and Best Hero nominee Chadwick Boseman and Best Fight nominee Winston Duke.
There are also two musical performances that have been confirmed by MTV. The sister duo, Chloe x Halle will be performing a medley of their two hit singles "Warrior" and "The Kids Will Be Alright." Nick Jonas and record producer Mustard will be performing their collaborative track "Anywhere." Jonas has been hanging out with Bollywood star and Quantico actress Priyanka Chopra a lot lately, so there may be a chance she comes to the show as his date.
But aside from the confirmed attendees, presenters, and performers, you can expect to see a lot of your favorites during the show. The MTV Movie and TV Awards is always a notoriously star-studded event, and you may even see some of the biggest names in music there as well. Lady Gaga, Diddy, Jay-Z, Demi Lovato, and Dr. Dre are all nominated for Best Music Documentary, so I'm sure at least one of them is bound to show up.
You can catch all the action and excitement of the MTV Movie and TV Awards live on Monday, June 18, at 9 p.m. ET on MTV.