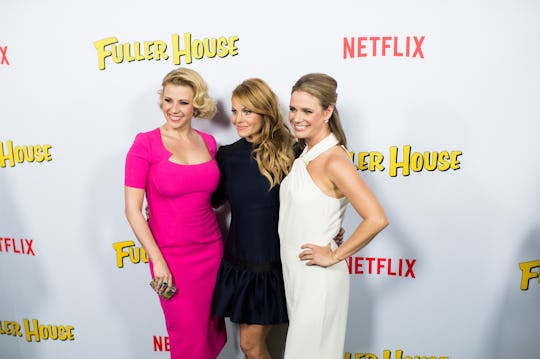 Emma McIntyre/Getty Images Entertainment/Getty Images
Who Will Be In 'Fuller House' Season 2? Maybe Fans Will Finally See An Olsen Twin
What ever happened to predictability? The milkman, the paperboy, the evening TV. You miss your old familiar friends, waiting just around the bend... But exactly how many of those friends are waiting? When Netflix premiered Season 1 of Fuller House in February, the entire Full House cast (save for the Olsen twins) came back, and now fans are wondering who will appear in Fuller House Season 2. Will they finally score an Olsen or two? Will the uncles take on a more permanent role? And what about Steve?
While Season 1 was almost a complete reunion, the show is anchored by D.J. Tanner-Fuller (Candace Cameron Bure), Stephanie Tanner (Jodie Sweetin), and Kimmy Gibler (Andrea Barber). Patriarch Danny Tanner (Bob Saget), Uncle Jesse (John Stamos), Uncle Joey (Dave Coulier), Aunt Becky (Lori Loughlin), and D.J.'s ex-boyfriend Steve (Scott Weinger) appeared in less than half of the season's 13 episodes, while the show's main focus was around the new generation. So far, it looks like the casting will remain pretty much the same: John Stamos recently appeared on The Today Show and confirmed his involvement in Season 2 and teased that he has a "good feeling" about Ashley Olsen finally making an appearance.
Bob Saget was recently spotted chatting with Ashley Olsen at the Whiskey Tango Foxtrot premiere, leading to further speculation that she may be game for Season 2. No word yet on her twin, Mary-Kate, but, as showrunner Jeff Franklin told Variety, "We only need one of them!"
Dave Coulier will also return for Season 2; it was Coulier himself who spilled the beans that the show was renewed on Today. There's no official word on Lori Loughlin or Scott Weigner yet, but they have been tweeting positively about Season 2, so that's a good sign. But there are still a lot of characters from the original that fans would love to check in with.