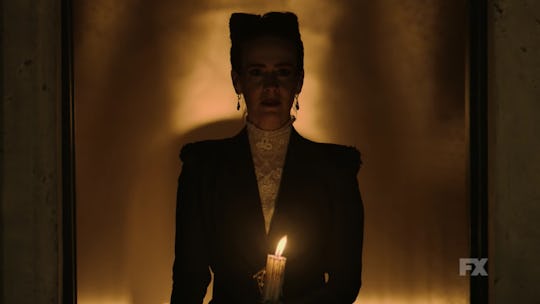 FX
'American Horror Story: Apocalypse' Will Be Packed With Characters Old & New
One of the most exciting aspects of American Horror Story's yearly reinvention is seeing familiar actors take on different roles. Though the cast doesn't remain exactly the same every time (you can always count on someone new joining the throng), fans have come to expect the same players to pop up every season. But who will be on American Horror Story: Apocalypse?
Apocalypse will be unlike anything that came before it. It's set in the future, whereas most seasons have delved into the past or taken place in the present. It's also a crossover on a massive scale. Though characters have occasionally recurred across the seasons in single episode appearances, this time it'll be a season-long merger. Characters from the very first season, Murder House, will be crossing paths with characters from the popular third season, Coven.
Many actors will be returning to AHS in roles they've played before, according to Entertainment Weekly. All of the witches from Coven will be back, so you can expect to see Sarah Paulson as Cordelia Foxx, Emma Roberts as Madison Montgomery, Taissa Farmiga as Zoe Benson, Gabourey Sidibe as Queenie, Lily Rabe as Misty Day, Frances Conroy as Myrtle Snow, and Stevie Nicks as herself. But Farmiga will also be reprising her role as Violet Harmon from Season 1 alongside her TV parents Connie Britton and Dylan McDermott, who will be playing Vivian and Ben, respectively.
But Farmiga, Britton, and McDermott aren't the only Murder House characters making an appearance. In addition to playing Cordelia, Paulson will be appearing as psychic Billie Dean Howard, who originated in Season 1 before paying Season 5 a visit. Evan Peters will also be back as Tate Langdon. However, perhaps the most long-awaited returning cast member is Jessica Lange, who will once again tackle the role of Constance Langdon in an episode directed by Paulson.
One would think that Paulson was busy enough directing while playing two characters, but she'll also be portraying a third. She'll be playing Venable as well, an inscrutable (but seemingly very stylish) character who can be glimpsed in the trailer for Season 8. Similarly, Peters will be taking on a new character too: a hairstylist reported by TV Guide to be a more comedic role than Peters has had in the past. It's unclear whether or not he will also be reprising his Coven character Kyle Spencer.
Other cast members coming back to AHS as new characters are Kathy Bates, Adina Porter, Leslie Grossman, Billie Lourd, and Billy Eichner. Bates wasn't in Cult, but she had previously appeared in Coven, Freak Show, Hotel, and Roanoke. Despite how memorable all of those characters were, in Apocalypse she'll be playing someone named Ms. Meade. Grossman, Lourd, and Eichner all made their AHS debut in Cult, but they'll be changing things up for Apocalypse. Grossman will be Coco St. Pierre Vanderbilt, Lourd will be Mallory, and Eichner's character is unknown. Porter, who has been part of the show regularly since Roanoke, will play Dinah Stevens. Cheyenne Jackson will be back too, but his character is a mystery.
There are also several actors joining the show for the first time in Season 8. Joan Collins, Cody Fern, Kyle Allen, Jeffrey Bowyer-Chapman, and Billy Porter are all new additions, though some of them have appeared in other Ryan Murphy projects. Fern recently played David Madson in American Crime Story: The Assassination of Gianni Versace, while Billy Porter appeared as Pray Tell in Pose.
It looks like Apocalypse will overflow with characters old and new, revisiting past favorites while introducing some previously unseen personalities to the mix.